Al igual que su existencia, la obra de Jack Kerouac gira en torno a espasmos. Violentos o calmos. Manchas, vocablos, acciones, ovillos deshilachados que, tal como en la psicología de la Gestalt, permiten conocer el todo antes que la suma de sus partes. Kerouac es un nombre que exige detenerse al pronunciarlo o escribirlo. Reencarnación del escritor que antepone a su firma el título de maldito. Música (el jazz) más que escritura. James Dean con hectolitros de espirituosas y alucinógenos varios. Estilo bonzo antes que a Hunter S. Thompson (el autor de Fear and Loathing in Las Vegas) se le ocurriese recorrer miles de kilómetros de la América profunda para bregar su verdad. Kerouac concibió, o al menos blandió, la misma bandera que el rockero Neil Young al señalar eso de "es mejor arder que apagarse lentamente". Su fantasma es caótico, y en cierta forma amable para quienes sueñan –pero no realizan porque saben que es demasiado doloroso– un presente, su presente, al margen de lo seguro. De Massachussets a Florida, el inicio y el final de la peonza que giró y cayó. Y que se puede volver a hacer bailotear. Una vuelta más.
EL FRANCOFONO ATLETA
Jean-Louis Lebris de Kerouac nació el 12 de marzo de 1922 en Lowell, Massachussets. La historia de su familia era otra de las tantas sagas de inmigrantes, en su caso canadienses francófonos, que procuraban un futuro mejor en una tierra ajena. Antes de saber hablar, el menor de tres hermanos ayudaba a Leo, el patriarca del clan, a atender su propia imprenta. Sería su padre quien inculcó el placer por la literatura en Jean-Louis (aún no lo llamaban Jack): "Soy canadiense, no aprendí a hablar en inglés hasta los cinco o los seis años de edad; a los dieciséis hablaba con cierta dificultad y en la escuela era un desastre" dijo el –por entonces– monaguillo y estudiante de una escuela católica. Juego de palabras, uno de sus primeros textos se llamó The Cop and the Beat. Instituciones y Beat. Pero ya habría lugar para ello. Al mismo tiempo que la escritura, el otro placer de Kerouac era el deporte.
En la Bartlett Junior High School se destacó como un veloz corredor, con varias medallas en los 100 metros. Optó por descollar como running back para el equipo de fútbol de su colegio. Kerouac, resistente "como una pared de ladrillos" según quienes jugaron con él, fue tentado para cursar en el Boston College, Notre Dame y la Universidad de Columbia. Se decidió por una beca en la casa de estudios de Nueva York, aunque el sueño del novato se hizo añicos, tal como su pierna durante su primera temporada. A esa imagen idílica le faltan algunos trazos. Con menos de 20 años, había publicado algunos relatos cortos, artículos deportivos, frecuentaba los clubes de Harlem en busca de jazz, fumaba marihuana y bebía con bastante frecuencia. Una fotografía en blanco y negro más: había perdido la virginidad con una prostituta en Manhattan. Tras abandonar Columbia se alistó en 1943 en la marina mercante. Viajó a Liverpool y conoció Groenlandia, aunque el viajero errante duró poco como militar. Según relatos posteriores fue echado por "demencia precoz", aunque en otras biografías es Kerouac quien decide abandonar esa carrera para volver a Nueva York. En la gran manzana conoció a William Burroughs y a Lucien Carr. Ambos centrales en su historia. Carr, además de presentarle a Allen Ginsberg, mató en un accidente automovilístico a David Cammerer. Por el confuso episodio, Kerouac fue arrestado por ocultar pruebas en 1944. Justo en esos días se casó con Eddie Parker. No se trató de amor, sino de un ardid para conseguir el dinero de la fianza. Corrían mediados de los años 40. Estados Unidos se despedía lentamente de la Segunda Guerra Mundial. Rosie the Riveter –famosa canción que retrataba a las mujeres que suplantaban a los hombres en las fábricas en esa época– volvía al hogar. Y un grupo de escritores se propuso vomitar sus experiencias. La generación Beat había nacido.
ESE CAMINO
"Conocí a Dean poco después de que mi mujer y yo nos separásemos". Con esas palabras comienza On the Road, libro surgido de los periplos reales y ficcionales que emprendió Kerouac. En sus páginas se mezclan las figuras de Burroughs, de Ginsberg, cientos de referencias culturales y las memorias de sus viajes a la Costa Oeste en autobús o haciendo autostop. Su otro yo, Sal Paradise, recorre el norte junto a Dean Moriarty, tras una emoción superadora. "Sabía que durante el camino habría chicas, visiones, de todo; sí, en algún lugar del camino me entregarían la perla", seduce en los primeros párrafos de esta Biblia contracultural. Y claro, está Dean. Personaje nacido de la correspondencia que Kerouac mantuvo con Neal Cassady, poco después de que publicara su primera novela, The Town & the City en 1950. Texto que configuró su filosofía de narrador, donde realidad e imaginación procrean nombres existentes, historias inventadas, aunque nada preanunciaba ese existencialismo tan afín al pensamiento Zen, y su tan mentado método de escritura de "prosa espontánea" (Ver el recuadro Credo y técnica de la prosa moderna).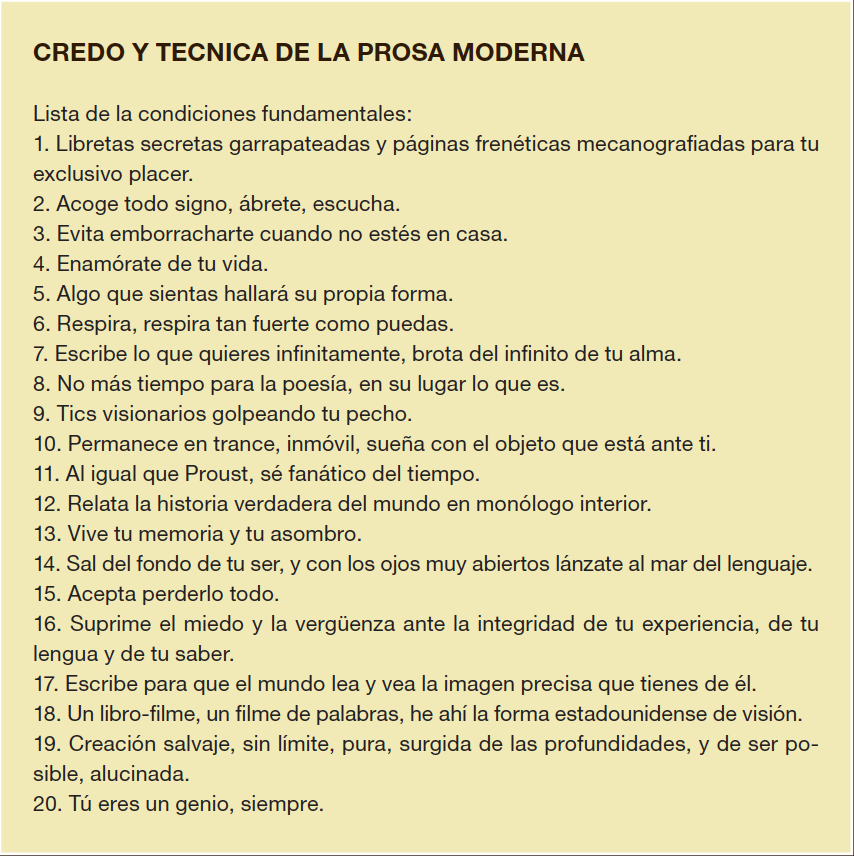 Por otra parte, On the Road se propuso como un objeto cultural en sí mismo, cuya génesis funciona como espejo de lo narrado en sus hojas. Fue escrito en tres semanas en abril de 1951, mientras Kerouac vivía con Joan Haverty, su segunda esposa, en un edificio al 454 de la 20 West Street en Manhattan. Lo que tipeó a máquina iba a llamarse "The Roll". Poco más de 120 páginas que pegó juntas, escritas a espacio simple, sin márgenes o distinciones en los párrafos. Y contrariamente al rumor, Kerouac dijo no haber usado ningún estimulante durante las largas sesiones de producción de su novela más legendaria, salvo por las incontables tazas de café. Monólogo interior, catarsis creativa, epifanía artística, resaca despabilada… obra previa a la obra. Dean Moriarty será el alter ego de toda la generación Beat, quien privilegia el movimiento sobre la quietud, la intensidad antes que la duración. Así pasan kilómetros, reflexiones, fiestas, silencios y muchas drogas a cuestas. Novela iniciática de un tiempo iniciático, augurando el costado perturbado, animal, perspicaz de la otra América. En plena era de prosperidad, Ginsberg tenía su aullido, Burroughs un almuerzo desnudo, Kerouac andaba por el camino. Tras varias reescrituras, On the Road fue publicada en 1957 por Viking Press. En poco tiempo The New York Times la calificaba como la obra "más bellamente ejecutada, la más clarividente y la más importante en la representación de su era".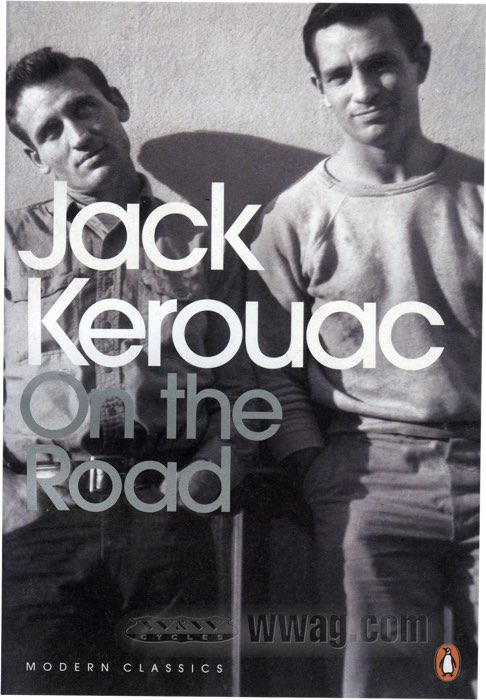 Más allá de lo que auguraba esa reseña, On the Road era un perfecto producto pop por sedimentación. El rock fue quien más adscribió a sus pasajes. Bob Dylan aseguró: "Cambió mi vida y la de todos los demás"; Jim Morrison sería otro de sus declarados seguidores; y Tom Waits construyó su personaje en base a ella. Sin On the Road no hubiesen existido filmes como Easy Rider; Paris, Texas o Thelma and Louise. Aunque, paradójicamente, el universo literario no fue tan afecto a sus postulados. En una recordada entrevista televisiva Norman Mailer y Truman Capote destrozaron al aclamado narrador. La labia contundente y viperina del hacedor de In Cold Blood dictaminó: "Lo de Jack Kerouac no es literatura, es mecanografía".
EL NOMADE Y EL FINAL
En los años que mediaron entre la gestación y la primera edición de On the Road, Kerouac emprendió varios viajes por Estados Unidos; se enamoró de una india especialista en alucinógenos; se volvió adicto a la Benzadrina; abandonó a su segunda esposa y a su hija Janet –llegó a ser detenido por no cumplir con la manutención–, aparte de escribir otros textos fundamentales como Visions of Cody y The Subterraneans. Para los amantes de Kerouac, estos años son los cardinales: aparecieron sus mejores narraciones, imbuidas por su alma nómade, explicitando la vida como un viaje sin fin. Así, las cosas importantes (la naturaleza, la amistad y la espiritualidad) son un pasaporte para hallarse a sí mismo.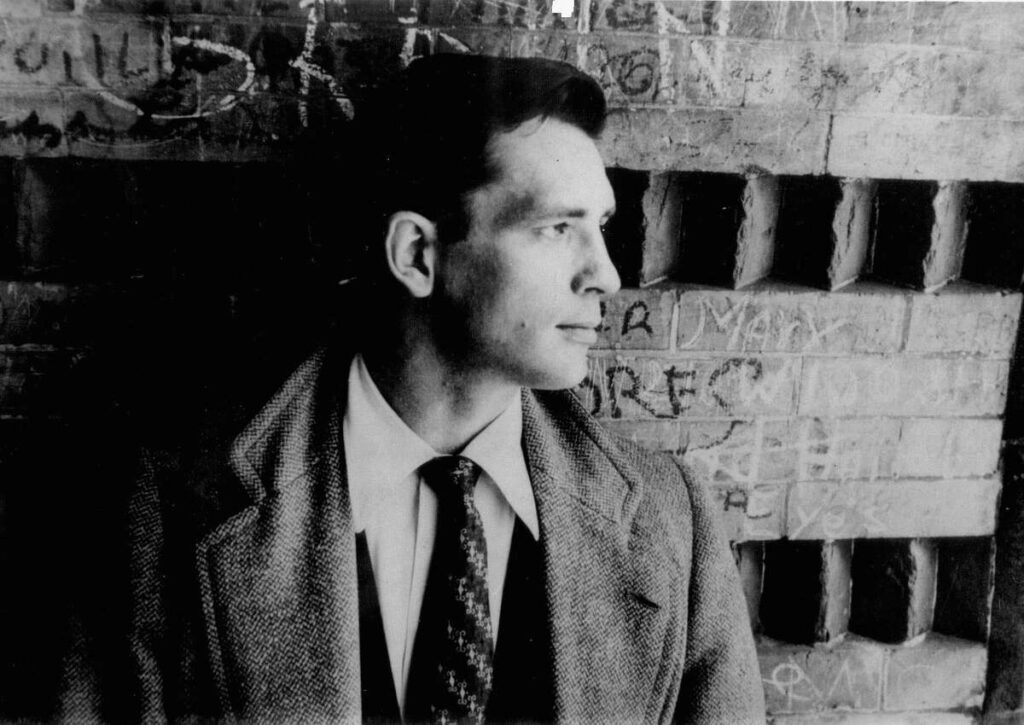 En The Dharma Burns surgió su costado más reposado, con el budismo Zen como medio para encontrar sentido a la experiencia, aunque el momento cumbre del libro sea, una vez más, un viaje: la ascensión al monte Matterhorn y todas las emociones que le provocó. Aunque nunca fue un best-seller con permanencia en la lista de The New York Times (alrededor de 5 semanas duró entre los más vendidos), la proyección de On the Road fue inmediata, y el suceso destruyó la forma en la que Kerouac se comunicaba con el mundo. Si antes la persona-personaje era un ignoto, ahora se había transformado en un símbolo de devoción e imitación. Si los jóvenes se acercaban a su casa para fumar marihuana y escuchar jazz, y ahora los echaba sin ningún complejo. Otros poetas y narradores admiraban su velocidad para escribir a máquina y su memoria prodigiosa. Kerouac decidía recitar haikus. Con la década del 60 abriéndose como la más revolucionaria del siglo XX, las rutinas de la generación Beat se tornaban la brújula a utilizar. Sus viejos compadres se convertían en iconos, y empuñaban a gusto el papel de eminencias contraculturales, Kerouac, por su parte, decidió recluirse junto a su madre y su tercera esposa, Stella Stampa, en St. Petersburg, Florida. Los vicios se tornaron un ciclo repetitivo, desde experimentar LSD con Timothy Leary a hacer de la bebida su verdadera compañera. A mediados de esa década, decepcionado por la actividad política de Allen Ginsberg, rompió las relaciones con él. Básicamente, a Kerouac no le importaba agitar al sistema como al autor de Howl –a quien le señala que envolverse en una bandera norteamericana es una falta de respeto. Entretanto publicó Satori in Paris y empezó a trabajar en la que sería su última obra en vida, Vanity of Duluoz.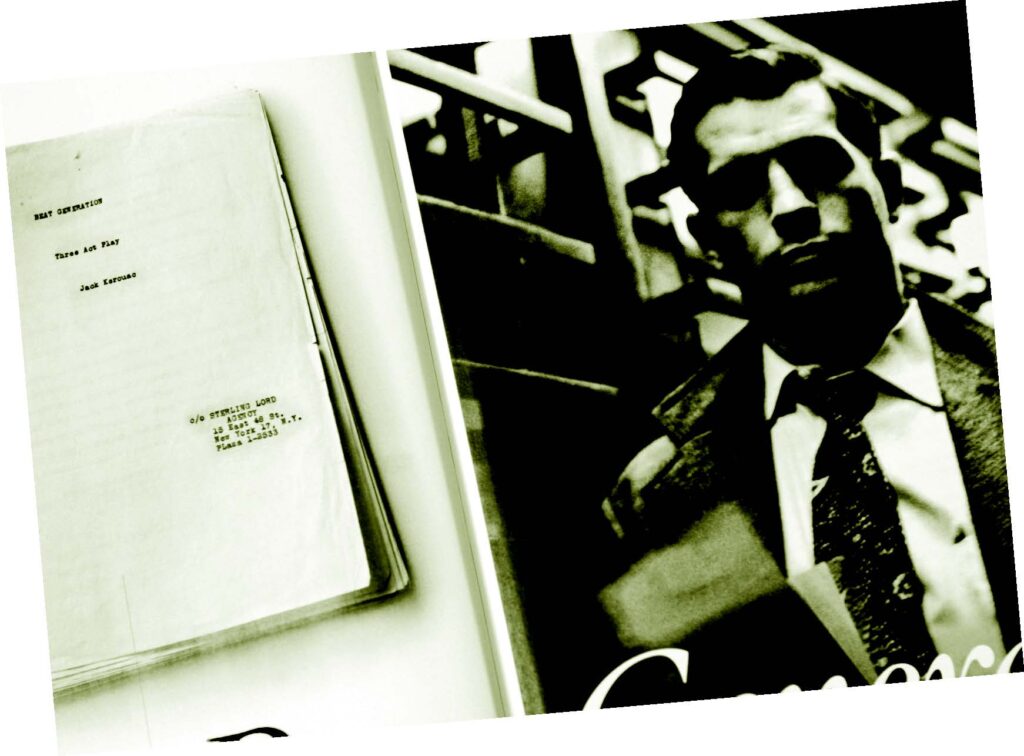 En 1967, un grupo de la revista Paris Review fue a entrevistarlo. A pesar de su estado calamitoso –los problemas de aislamiento son evidentes–, surgieron algunos destellos de claridad. Sobre todo, cuando recordó su forma de trabajo en On the Road. Expresó con pasión sus teorías formales, y su odio hacia los editores que arruinaban la espontaneidad con los fórceps de la puntuación clásica: "Malcolm Cowley hizo infinitas revisiones e insertó miles de comas innecesarias como, digamos, Cheyenne, Wyoming… ¡Por qué no decir simplemente Cheyenne Wyoming!". Criticó a Burroughs por no haber escrito nada a la altura de The Naked Lunch, manifestó su admiración por autores franceses –quería emular a los clásicos como Marcel Proust y deseaba escribir su gran novela– y se pronunció contra la fama: "No voy a pasar el resto de mi vida sonriendo y estrechando manos y enviando y recibiendo perogrulladas, como un candidato a funcionario político, porque soy escritor: mi mente tiene que estar sola, como la de Greta Garbo".
Cuando lo entrevistaron, habló tan rápido y tanto como en sus mecanografías, y sorprendió con un conservadurismo bravucón y etílico: "Odio a los gays. Odio a los judíos. Odio a los hippies. Joe Mc-Carthy es mi hombre. Hombre, soy el Todo. Estoy en paz. Soy un Buda catatónico. Ahora vivo con mi mamá, pero soy Buda. Tengo mil quinientos dólares y ése es mi pasado y mi futuro y mi bastón. ¿Qué otra cosa tiene uno, además de su bastón? No hay que hacer demasiados planes. No tengas miedo. Nunca van a arrojar la Gran Bomba. Están peleando por ti. Tienen que proteger esas plantaciones de bambú. Las necesitan para fabricar nuestros bastones". Hacia el final de sus días, en 1968, llegó a vender las cartas de Allen Ginsberg y Neal Cassady a la Universidad de Texas, y las de William Burroughs a la Universidad de Columbia. Más que un gesto de gratitud intelectual, fue todo lo contrario, un despojo hacia su propio pasado. Los fantasmas quedaban atrás. Cuando murió, a los 47 años, el 21 de octubre de 1969, dejó resmas enteras de diarios, cartas y apuntes sobre sus búsquedas en el budismo. En su cuenta bancaria había alrededor de noventa dólares. Para el año 2004 lo generado por su obra (y su estatura) se acercaba a los 20 millones de dólares; y Johnny Depp pagó una pequeña fortuna por un impermeable suyo que salió a remate.