Ella me mira, yo la miro, nos miramos. Nos medimos. Recuerdo la foto que me mostraron: una mano mordida hasta el hueso. Recuerdo que no debería estar aquí, me lo dijeron, no es seguro. Estoy paralizada. Pero ella no: se acerca a mí. Hacia delante está el hielo, hacia atrás está el mar. La miro fijo: es una foca común, no muy grande, pero se mueve rápido. "No corras –pienso–. No corras". Somos cinco personas alrededor de la foca. En medio de la tormenta de nieve, nadie la había visto; sólo queríamos llegar cuanto antes a la tumba de Ernest Shackleton, el famoso aventurero de los mares del sur. Valeria había apoyado su equipo fotográfico en el piso por un instante, y cuando se dio vuelta para buscarlo, la foca estaba a punto de pasarle por encima. Había corrido a rescatarlo. Le habíamos dicho que no corriera, pero ya era tarde: la foca se había puesto en marcha, derecho hacia ella. Hasta que escuchó mi voz. Se dio vuelta, abandonó a Valeria y empezó a venir hacia mí. Somos cinco; no tiene mucho lugar por dónde escapar. Avanza. De repente estoy segura: va a morder a alguien. Es cuestión de segundos. La foca avanza y no se puede negociar con ella, no puedo sobornarla ni conmoverla.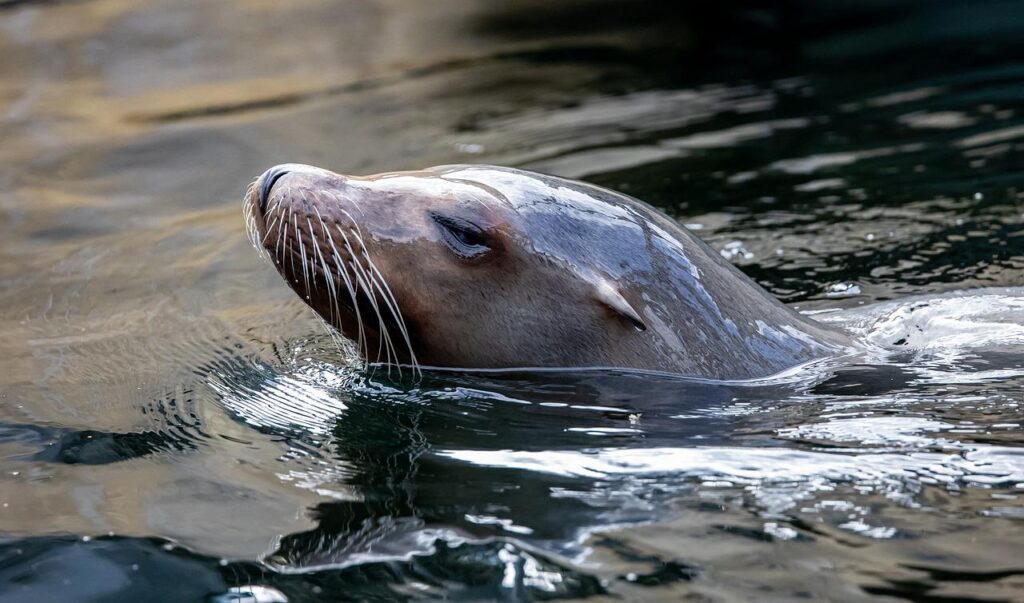 Trato de recordar lo que me dijeron.
"No corras, asústala". Levanto mi cabeza hacia el cielo, en medio de la tormenta de nieve, abro la boca y grito. Grito como gritan las focas, los pingüinos, los lobos marinos. Grito con toda la garganta, con todo el cuerpo. No tengo nada que perder. La foca me mira fijo. Valeria, Lepe y los otros periodistas también. Nadie se mueve. No sé cuánto dura el grito. Lepe dice que fueron tres minutos; podría ser más, podría ser menos. Un lapso fuera del tiempo, del que salgo agarrada a su voz que me dice "ya está, ya pasó, ven por aquí". Retrocedo muy despacio, mis ojos clavados en los ojos de la foca clavados en los míos. Alcanzo a Lepe, me escondo detrás de un barco naufragado. "Ya pasó", me dice. Tiemblo. Nos tomamos otros quince minutos para llegar a la tumba de Shackleton por el más largo de los caminos, sobre el hielo quebradizo que se vence a cada paso. Frente a la piedra, Valeria le enrostra: "Shackleton, si supieras todo lo que pasamos para visitarte". Más tarde, en el barco, otra vez en los brazos de la confortable civilización, una escena se repite: los pasajeros desfilan por mi mesa y, en inglés, en francés, en alemán, en portugués, me preguntan por qué gritó la foca.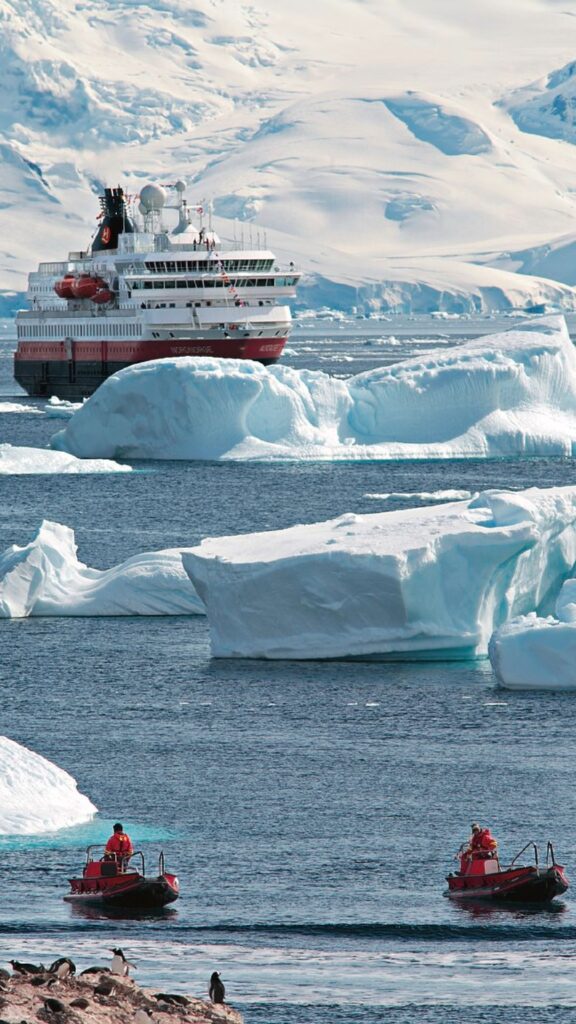 Valeria, Lepe, otros 257 pasajeros, ochenta miembros de la tripulación y yo viajamos a bordo del Nordnorge, un buque noruego que se dirige a la Antártida.La Antártida: un gran signo de interrogación, una expectativa ansiosa. ¿Cómo imaginar un territorio que no tiene rutas, ni ciudades, ni monumentos? Los mapas son siempre icónicamente blancos. ¿Qué pensar de ese lugar tan poco pisado por los hombres en el que ni siquiera hay caminos? Y con un nombre blanco, todo lleno de aes. Como un espacio lleno de vacío. Con ese vacío en el casillero de las expectativas me embarqué, un martes, en el puerto de Buenos Aires, como quien va al espacio exterior, o al interior. Días y días mar adentro, o más bien adentro del mar, envueltos por un horizonte infinito, llevan necesariamente allí. Altamar es un lugar extraño. No hay países ni banderas ni moneda, sólo mar por donde se mire. Durante jornadas enteras no se ve más que agua y cielo por los cuatro costados –si es que se puede pensar en que fueran cuatro, en que fueran costados–. Mientras tanto, nos acostumbramos a caminar, dormir, escuchar conferencias y comer en movimiento, viendo el horizonte subir y bajar. Y también nos adaptamos a otra velocidad, sin televisión, sin celulares, sin publicidad, sin autos, sin dinero.
La comida es internacional, así como el pasaje: 68 alemanes, 50 estadounidenses, 35 británicos, 29 brasileños, 21 noruegos, 8 franceses, 50 del resto del mundo. El capitán es noruego, como corresponde. La tripulación, casi en su totalidad, es filipina y muy amable, como suele suceder en todos los cruceros del mundo. Aunque este no es un crucero común, sino un viaje de expedición. Nada de discoteca ni casino ni fiesta de la espuma. A cambio, conferencias científicas y el punto clave que diferencia a este barco: la posibilidad de bajar en territorio antártico, de pisar –con estrictas botas de goma– ese continente tan poco pisado y de pasearse entre los pingüinos. Y las focas.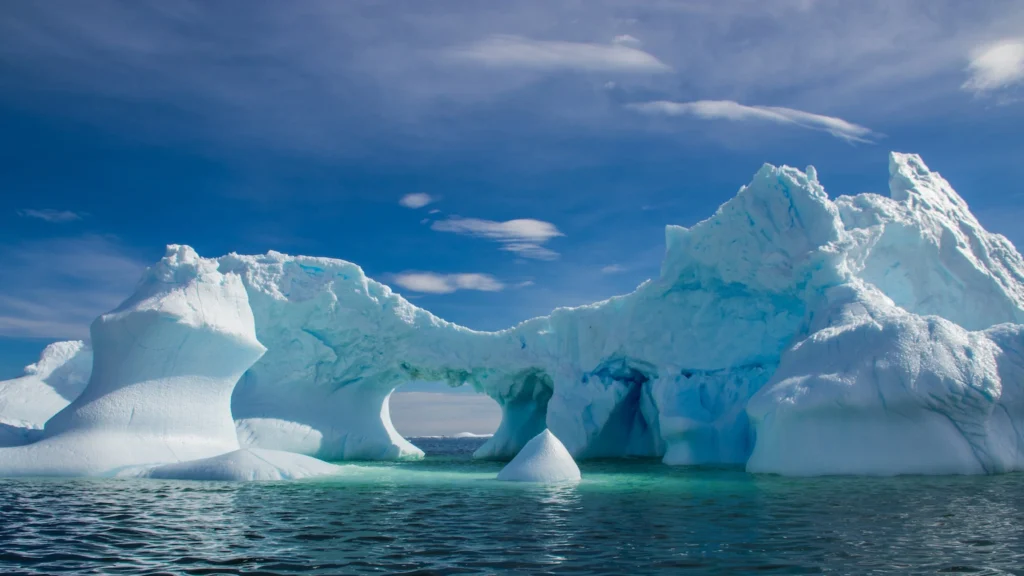 HACIA EL HIELO
"Ladies and gentleman, our first iceberg". Justo cuando Ian Shaw, el líder de expedición, está llegando al clímax de su relato sobre la epopeya de Shackleton, su micrófono se queda sin sonido y una voz de mujer da la noticia. Saltamos de las sillas; una pequeña línea de luz en el horizonte, casi nada, blanco sobre blanco, se vuelve el objeto de deseo de todas las cámaras. Vamos hacia las Georgias del Sur, una isla alejada casi por igual de Sudamérica, Antártida y Africa, favorita de los marinos y los amantes de la vida silvestre. Precisamente allí descansa Shackleton, el mayor héroe antártico, no tanto por sus logros como por sus esfuerzos: su barco se hundió en el hielo de las Shetlands del Sur, y él remó 1.287 kilómetros de mar para buscar ayuda. A la mañana siguiente, los icebergs ya casi no llaman la atención. Tras cruzar el meridiano 45°, el que atraviesa Groenlandia, hemos adelantado los relojes. Una hora más jóvenes, visitamos al capitán en el puente de mando; más de uno sueña con echar por la borda su vida anterior y volverse marinero. El buque cruza la convergencia antártica y el mar se vuelve más frío. A las cinco, algún instinto me arranca de la cama. Por la ventana del camarote aparece la primera piedra de la Georgia. La sigue una montaña nevada, y un glaciar. En quince segundos estoy afuera. Todo está quieto, helado y blanco, como en el primer minuto del mundo. Esta isla fue muy popular entre los cazadores de focas y lobos marinos del siglo XIX, y durante buena parte del XX hospedó siete estaciones balleneras, donde dos mil personas coexistían con pingüinos y albatros. A las siete, el sol hace brillar hasta el último rincón de la bahía Fortuna, completamente nevada. El Nordnorge se clava en un punto del agua. La acción está por comenzar. Los 260 pasajeros tenemos ya puestas nuestras camperas y salvavidas reglamentarios; nos organizamos en ocho grupos y esperamos pacientemente la llamada. Llegar a los botes ya es una aventura. Tras bajar dos pisos alfombrados, aparece otra parte del barco: una serie de carteles llevan a una escalera que desciende a una suerte de garaje lleno de botas de goma ordenadas por talle. Están ahí para que nos las pongamos, son normas del Tratado Antártico: no se puede trasladar nada al continente blanco, ni siquiera una semilla pegada a la suela del zapato. Equiparse: gorro, guantes, protector solar. Uno a uno vamos pasando nuestras identificaciones por una lectora que dice "good-bye" con voz electrónica. Nos subimos las capuchas y bajamos a los botes.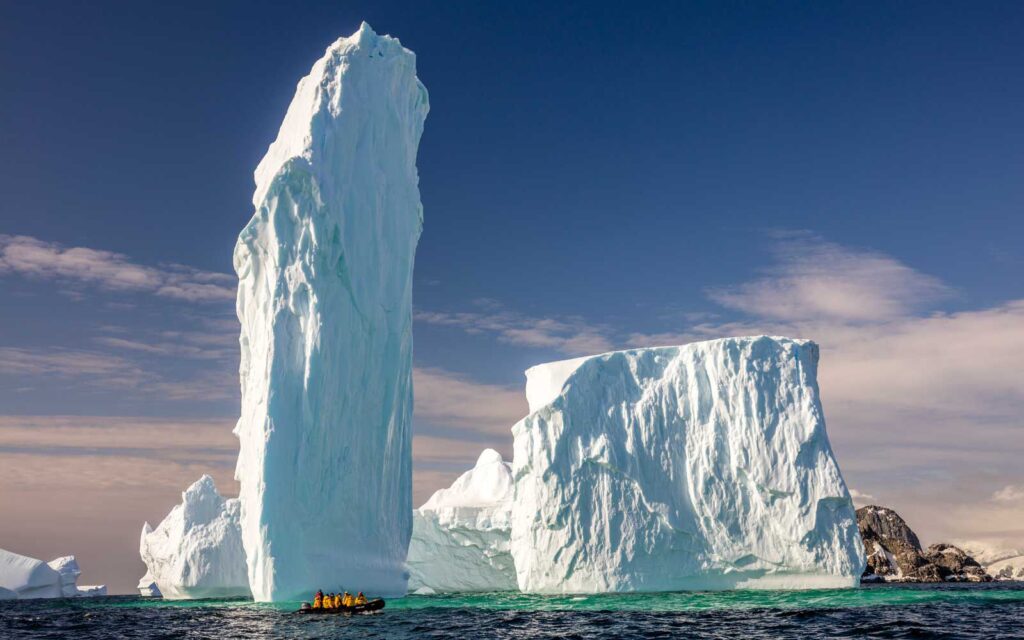 Cuando el octavo pasajero sube al Polar Cirkle, el conductor arranca sin piedad. En diez segundos estamos todos cruelmente mojados. Pero no importa: el día es hermoso, y en la costa unos puntitos oscuros se van revelando como un comité de recepción formado por pingüinos, focas, lobos y elefantes marinos. Después de ver tantas fotos y películas de pingüinos, ya casi no creíamos que fueran reales. Yo no lo sabía, pero lo aprendí en las conferencias del Nordnorge: hay diecisiete clases de pingüinos. Estos que se van delineando son los enormes pingüinos rey, soberbios con sus "moños" dorados. ¿Quién hubiera creído en su existencia si no los hubiese visto? Deben ser los únicos animales que andan sobre sus dos patas, la cabecita para arriba, oteando el horizonte y avanzando. Los pájaros también andan así, pero sólo cuando no vuelan; los pingüinos nunca vuelan, nadan. ¿Por qué será que se los llama aves? Al menos averigüé por qué caminan con ese pasito tan gracioso. Basta con ponerse las botas de goma e intentar andar en su mismo terreno. Al apoyar el pie en el hielo, hay muchas posibilidades de irse para abajo y quedar atrapado, como me ocurre en cuanto piso Georgia. Por eso van ahí, con su pasito vacilante, uno detrás de otro, en fila. El mejor lugar para pisar es aquel por el que ya han ido los demás, no sólo porque probablemente hayan elegido el mejor camino, sino también porque sus propios pasos habrán domesticado la nieve. Los miro un rato y decido que, sin duda, esa sería la mejor manera de salir de mi trampa de hielo. Claro que no puedo hacer lo que hacen ellos cuando se cansan: se tiran al piso y se trasladan a pura panza-patín, usándose a sí mismos de trineo. Supongo que por eso tienen siempre la panza tan lustrosa. Son el eslabón perdido entre el pájaro, la foca y el hombre, tan torpe pero siempre con la cabeza arriba y la mirada fija. Los pichones se ven casi más grandes que los adultos, más redondos. Cubiertos de un plumón marrón, parecen pompones gigantes. Es inimaginable cómo esos mega gorriones se convierten en los distinguidos pingüinos rey. Sin embargo, si se mira por un rato, se puede detectar a algunos en plena muda de plumaje. Da la sensación de que el verdadero pingüino estuviese ya completito esperando abajo del plumón, como una mariposa dentro de la crisálida.
PUEBLOS FANTASMA
Tras 16 días de remo y 36 horas de agotadora caminata a través del inexplorado corazón de la isla, Shackleton llegó a la estación ballenera Stromness. Nosotros somos más afortunados: llegamos en nuestro barco de siete pisos, con restaurante, cafetería 24 horas, boutique, salas de conferencia, lavandería, gimnasio, sauna y jacuzzi. Desde la cubierta vemos las ruinas, enrojecidas por el óxido y derribadas por el viento. Stromness funcionó desde 1907 hasta 1961; hoy grandes carteles advierten del peligro de los asbestos liberados en la zona. En la costa, entre los desechos metálicos, duerme una colonia de lobos marinos. También caminan por ahí los pingüinos rey y una especie nueva: los de Papúa. De pronto, como una visión, cruzan frente a nosotros tres renos, como salidos del trineo de Santa Claus. Son nativos del hemisferio norte; los marineros noruegos los trajeron en barco, con el objetivo de comérselos si no encontraban un menú mejor. Hoy se trepan a las montañas de Georgia como si fueran cabras. Detrás de los edificios abandonados se esconde un pequeño cementerio de balleneros. Para llegar hay que cruzar un arroyo; no queda otra que meter las botas de goma en el agua helada y caminar con cuidado, tal como los balleneros habrán hecho cientos de veces. Trece cruces recuerdan a trece hombres que murieron muy lejos de casa. La "capital" de la isla está en otra bahía, Grytviken; muy cerca de allí se encuentra King Edward's Point, la base británica, con alrededor de quince habitantes estables. Desde el barco casi no se ve nada: la nieve es tanta que el equipo de expedición debe abrir camino. Apenas se adivinan las ruinas rojizas de la fábrica de aceite de ballena. Más atrás se ubica lo que quedó de las casas de los trabajadores, la oficina central, el hospital, la panadería, la iglesia –la única del archipiélago– y hasta un cine en miniatura. Cuesta creer que allí vivieron, en su momento de esplendor, hasta cuatrocientas personas, entre cazadores de ballenas, técnicos, esposas e hijos. Hoy sólo hay dos habitantes estables: Tim y Pauline Carr, los encargados del museo. En la que supo ser la casa del administrador, se puede ver un albatros embalsamado, los trajes que se dejó olvidada la expedición de Shackleton, el viejo proyector de cine junto al programa de la Navidad 1959 –que incluye Siete novias para siete hermanos–, ¡varios frascos de aceite de ballena y hasta una piel de pingüino rey con un cartel que dice "please touch me!".
Los pasajeros del Nordnorge se agolpan en el museo, huyendo de la tormenta. Allí se puede hacer algo muy infrecuente en este viaje: comprar. La tienda se especializa, claro, en merchandising de Shackleton. Los restos del navegante descansan en la otra punta del pueblo. En un día normal llegar allí sería un paseo, pero en medio de la tormenta se vuelve un desafío. La luz ciega; es muy difícil ver por dónde se camina. Hay que ir por la costa, y con cuidado: alcanza un movimiento para quedar sumergido en la nieve hasta más arriba de las rodillas, o quebrar el hielo y quedar en el agua. Lo más difícil es conservar las botas, que se empecinan en quedarse trabadas. Y después, claro, está la foca.
Good morning ladies and gentleman". Como todas las mañanas, escucho desde la cama el saludo del líder de expedición, que se transmite por radio en todo el barco. "It's 7.30. We have sad news: one passenger has passed away last night". ¿Cómo? ¿Por qué? Y, sobre todo, ¿quién? Un barco en altamar, 260 pasajeros, 80 tripulantes, un muerto: Agatha Christie no lo hubiera hecho mejor. Durante el desayuno no se habla de otra cosa. La noche anterior, por primera vez, unos cuantos nos habíamos acostado sin cenar; en pleno Océano Antártico, el viento se hacía sentir. Más de uno se habría atado a la cama. El muerto, ¿habrá sufrido mareos? El enigma va develándose de a poco: se trata de un pasajero estadounidense, de 59 años, que viajaba con su suegro. Habría sufrido un paro cardiorrespiratorio. La investigación del hecho estará a cargo de la comisaría de Ushuaia, adonde llegaremos en una semana. Por el momento, el acompañante deberá hacer su duelo a bordo, e intentar disfrutar de todos modos de la salvaje belleza antártica. En el muerto es mejor no pensar. A la mañana siguiente, otro anuncio: un pasajero es sacerdote, e improvisará una misa en memoria del difunto. "Eso es buena suerte", pienso. El servicio se lleva a cabo en inglés, en el salón panorámico del piso 7, mientras avanzamos raudamente hacia las Shetlands del Sur.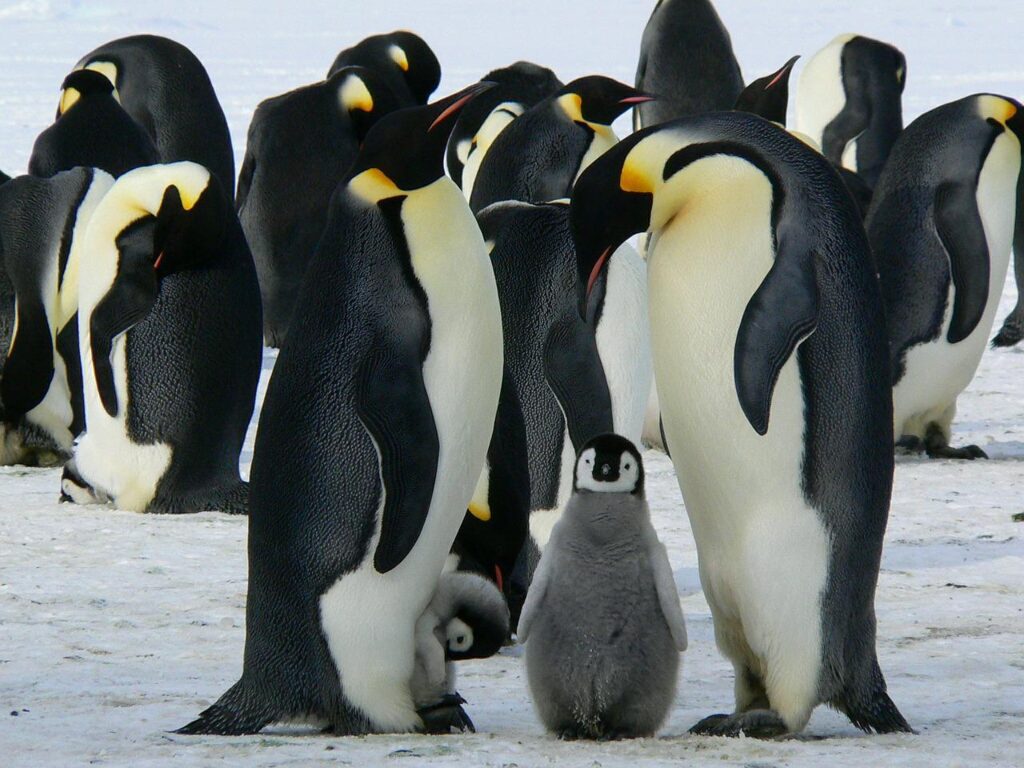 MATE POLACO
Es la utopía de Lennon: un territorio de nadie, y a la vez de todos. De todos los que quieran usarlo para fines científicos, claro, no de lucro ni de explotación. La isla Rey Jorge, en las Shetlands, es conocida como "la capital de la Antártida", porque aloja treinta bases científicas de diferentes países, algunas a pocos cientos de metros de las otras. No hay fronteras en el hielo. Jacek, de 24 años, alto, pálido y rubio, lleva casi un año en la base polaca Arctowski, y se quedará hasta el final del verano. Después debe abandonar ese mundo de trece personas para volver a Varsovia. "Me quedaría –dice– pero tengo que terminar de estudiar". Convida un típico mate rioplatense, y aclara que la yerba es un regalo de sus vecinos de la base argentina Jubany. Cuenta que, en los inviernos, cuando ya vieron todas las películas que trajeron, pueden llegar a aburrirse. Y que la peor parte es que todavía no tienen internet: su trabajo es montar la conexión.
La mayor parte del personal antártico, explica, es tan joven como él: gente sedienta de aventuras, sin miedo a las condiciones térmicas extremas. Contra toda sospecha, Jacek se queja del calor: "En verano, los techos de chapa se recalientan y adentro puede hacer más de treinta grados". Una pequeña tienda de recuerdos es atendida por la única mujer de la base. "Esto no es para chicas", sentencia Jacek. Sobre la playa hay huesos de ballena y un cartel de esos que señalan la distancia al resto del mundo: Varsovia: 14.473 km, Polo Norte: 16.864 km; Washington DC: 11.140 km. Cuando el sol baja despacito, el viento se calma. Todo está quieto; de la nieve sube una suerte de euforia. Después de muchos días blancos, la multiplicación de colores parece un milagro. La baranda de la cubierta tiene unos diez centímetros de nieve. Debe haber nevado toda la noche. Por donde mire, sólo se ven bloques de hielo. Todo es blanco, menos el cielo gris. Programa del día: isla Cuverville, en el canal Errera. Apenas subimos a los botes notamos que las condiciones no son normales. En la playa, el equipo de expedición nos espera con hielo hasta la cintura. El Polar Cirkle esquiva témpanos en su esfuerzo por llegar a la costa. Finalmente, el equipo de expedición abre los hielos para nosotros y bajamos. Parece el refugio de Superman, tomado por una colonia de pingüinos Papúa. Por primera vez siento frío y me pongo en la fila para volver al barco antes de la hora señalada. Pero la fila se va extendiendo, y los botes no llegan. Sobre la playa donde desembarcamos, el agua se congela y el hielo va cerrando el camino. Después de un rato demasiado largo, nos informan que debido a los fuertes vientos es imposible subir al barco. Somos ochenta personas en tierra. La emergencia durará hasta que cambie el viento: nadie puede hacer un pronóstico. El equipo médico reparte unos trajes térmicos anaranjados que cubren a los más friolentos de pies a cabeza; parecen teletubbies.
Mientras se arman algunas carpas para socorrer a los más afectados, los demás hacemos lo que aprendimos en el film "La marcha de los pingüinos": nos juntamos para conservar el calor, y rotamos la posición de los que van afuera. Aprovechamos para contar historias; todo sea por no pensar en el frío. Trato de no alarmarme, pero registro que estoy perdiendo sensibilidad en el pie derecho. Después de dos horas, un guía invita a una caminata. Todo lo que un rato antes estaba prohibido, como andar fuera de los límites marcados, ahora se puede. Subimos un monte y bajamos resbalando sobre los pantalones. Pensamos en acampar y pasar la noche. Justo cuando empezábamos a divertirnos, nos avisan que el rescate está en camino. Como para que no nos vayamos con las manos vacías, se desata una tremenda tormenta de nieve. En una playa al otro lado de la isla se materializan termos con chocolate caliente. Son las cuatro de la tarde y el chocolate es el mejor del mundo. En el barco nos reciben como a héroes, con una copa de cognac para entrar en calor. Nos damos cuenta de que vivimos un resumen de la aventura de Shackleton en apenas seis horas. Esa tarde, el viaje alcanza su cenit: ya estamos volviendo hacia el norte. Mi pie derecho arde y pica. Por el ojo de buey que da a la popa se ven tres cosas: cielo, mar y icebergs.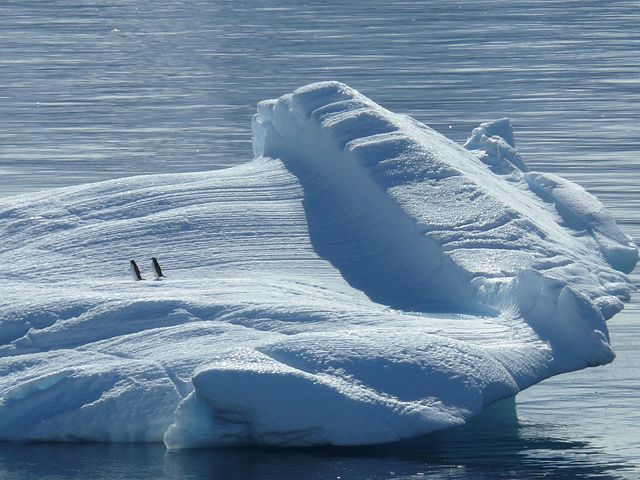 BLANCO, ROSADO, NEGRO.
Tarde aprendimos que con otro par de medias el mundo cambia. Después de tantas islas, por fin pisamos la Península Antártica, envueltos en una nevisca que impide ver los propios pies. Jugamos a la guerra, hacemos angelitos y hasta disfrutamos de tres arremetidas de viento blanco, en cuclillas, sin saber si alguna vez vamos a poder volver y riendo. Por la tarde visitamos Port Lockroy, una base británica que hoy funciona como museo. Situada en una isla mínima, se conserva tal como era en 1950, con las mismas latas de tomate y los mismos equipos de telecomunicación. Es extraño encontrar un museo en semejante rincón del mundo. Los encargados del lugar, Rick y Sally, llegan con nosotros en el Nordnorge. Una multitud de pingüinos Papúa sale a recibirlos. El suelo está rosado por el guano, que conserva el color del krill. Sale el sol; la tarde es tan cálida que empieza a oler a zoológico. Queda sólo una última bajada: la isla Decepción, formada por la explosión de un volcán.
Llegamos en una mañana resplandeciente: los icebergs son un recuerdo, y casi no hay nieve sobre la tierra volcánica. Bajamos en una playa negra, con rocas de formas extrañas. Las ruinas metálicas de una estación ballenera de principios del siglo XX se superponen a las de una base británica que sufrió la furia del volcán y redondean un paisaje de ciencia ficción. A esta isla la llaman "el parque de diversiones": se puede subir una montaña, bajarla deslizando por la nieve e incluso bañarse en una pileta de aguas termales preparada ad hoc por el equipo de expedición. Eso sí, para acceder al agua caliente –y al diploma que conlleva– es necesario, antes, sumergirse en las heladas aguas antárticas. Contra todo pronóstico, más de un valiente luce traje de baño y consigue su diploma.
Hay algo violentamente anticonvencional, casi anti geográfico en llegar a Ushuaia desde el sur. Después de atravesar durante un día y medio un pasaje de Drake inusualmente tranquilo, el Nordnorge va entrando en el mítico canal de Beagle. Casi no nos damos cuenta, entretenidos con la gala del capitán y la despedida de la tripulación. De pronto, en medio de la cena se ve algo más oscuro que la oscuridad del mar. Me siento un poco como Rodrigo de Triana, y también ridícula. No vale irse a dormir; subimos al bar del piso 7 a celebrar la fiesta de despedida. Apenas son las 12 cuando vemos aparecer luces, las primeras luces en tierra en muchos días. Es el pueblito chileno de Puerto Williams. El aura anaranjada de Ushuaia ya se ve desde la proa. A las 4.15 el barco termina su maniobra. Amarrado al muelle, el Nordnorge ya no se mece. Se escuchan bocinazos en el puerto. Adiós a las tormentas de nieve y los animales salvajes; ahora vuelven el asfalto, el teléfono, los problemas del mundo. Después de tantos días en el mar, la llegada a tierra se siente como un desamparo. Entro a mi cabina por última vez. No sé cómo dormir en una cama tan quieta.