ALMA MAGAZINE: ¿Cómo fue que usted se decidió por la actuación como una forma de vida?
TOM HANKS: Yo no sabía que podía ganarme la vida como actor. Cuando terminé la escuela secundaria y entré a la universidad, San Francisco era una ciudad muy buena en términos de teatro. Allí se encuentra el American Conservatory Theater y el Berkeley Repertory Theater. En la universidad, empecé a tomar unas clases sólo porque me daban crédito extra si iba al teatro. Aunque hasta ese entonces, yo pensaba que el teatro era algo que de vez en cuando se hacía en grupo para la escuela pública o en algún parque. Pero cuando me di cuenta que podía ser un trabajo, empecé a estudiarlo seriamente.
AM: ¿Se acuerda de la primera película que vio en su vida?
T.H.: Sí, y puedo contarle la historia porque es una imagen que todavía me persigue al día de hoy. Con mis hermanos, nos habían dejado en el cine para ver 101 Dalmatians. Yo tenía cuatro años, a lo mejor cinco. Era el momento en que mis padres se preocupaban más por darse cuenta cómo podían convertirse en ex esposos o cómo conseguir otra persona para casarse. Mi familia era tan poco funcional que un día dijeron: "Hoy nuestros hijos van a ir al cine. Hay que llevarlos donde dan 101 Dalmatians". Pero cuando entramos, nos dimos cuenta de que la proyección de 101 Dalmatians se había levantado el miércoles y el sábado a la tarde daban una película de terror llamada Scream of Fear y el pequeño Tommy Hanks no paraba de gritar: "¡Aaaaaaahhhh!". Todo lo que recuerdo es que había gente corriendo por una mansión de terror donde había una piscina con una viejita hundida en su silla, en el fondo. No era exactamente 101 Dalmatians. Esa fue la primera película que vi en un cine. La decisión de ser actor vino después, debe haber sido un instinto de sobrevivencia. (Risas)
AM: ¿Cuál fue entonces la mejor experiencia con el cine luego de aquella mala pasada?
T.H.: Cuando mis padres se divorciaron, me fui a vivir con mi padre y él me dejaba decidir lo que yo quería hacer. Y empecé a ir al cine todo el tiempo a los 8, 9, 10 y 11 años. Iba a ver películas que ni siquiera eran para mi edad. Eran todas historias sobre adultos, para adultos, en lugares de adultos. Iba solo al cine de Alameda a ver Ship of Fools con Michael Dunn. Vi a Sean Connery en The Hills, que me parece que trataba sobre un campo de prisioneros de guerra. Vi pasar por mis ojos la cultura cinematográfica de la década de 1960, pero tampoco eran grandes producciones. Siempre eran películas de adultos que ni siquiera entendía, aunque sabía que eran importantes y quería sentirme involucrado.
INCANSABLE
Si bien está preparando la vuelta del cine familiar con la cuarta entrega de Toy Story, Tom Hanks (California, 1956) también se inclina hoy por el cine adulto, con los tres filmes que protagoniza en menos de un año. Ya había estrenado en el Tribeca Film Festival, A Hologram for the King, película que narra las aventuras de un fracasado hombre de negocios estadounidense que trata de venderle al rey de Arabia Saudita la revolucionaria idea de una moderna comunicación en realidad virtual, donde la otra persona aparece proyectada en la misma habitación como un holograma; a lo que se suma en la trama un romance tabú, además de las complicaciones sociales de un norteamericano inmerso en el mundo árabe.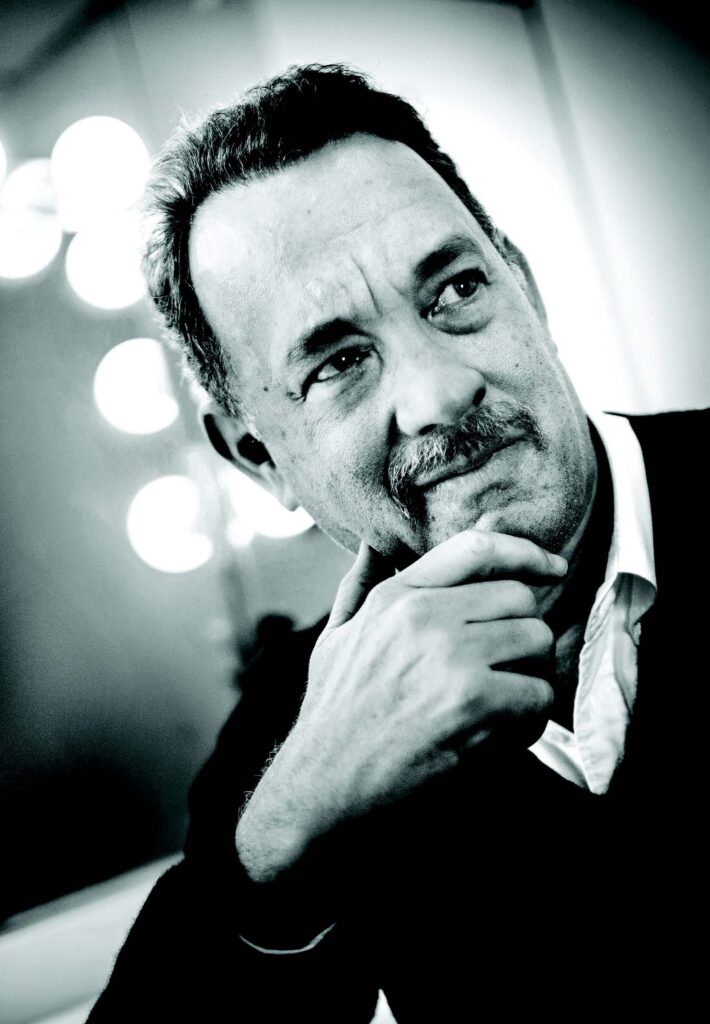 Por otra parte, con Sully –previsto su estreno para el 9 de septiembre–, Hanks lleva al cine la verdadera historia del piloto de avión Sully Sullenberg que se transformó en héroe cuando en enero de 2009 salvó la vida de 155 pasajeros al aterrizar la nave en el río Hudson; sin olvidar la investigación que amenazó con destruir su reputación. Mientras que con Inferno –que arriba a las salas el 28 de octubre–, el carismático actor vuelve a ponerse en la piel de Robert Langdon, a quien interpretó en The Da Vinci Code, descifrando en esta ocasión otro rompecabezas de símbolos para salvar su vida. Ahora bien, fuera de cámaras, sería estupendo descifrar las claves de su verdadero éxito.
AM: ¿Se aprende mejor en el universo del cine con las buenas o las malas experiencias?
T.H.: Las malas experiencias siempre les ganan a las mejores, todo el tiempo. Para empezar, es muy difícil ver una película mía más de una vez, porque no hay nada que vaya a cambiar. Los tiempos son los mismos, la música llega al mismo momento y el feo corte de pelo sigue estando feo después de dos horas. No obstante, en todas las películas siempre vas a encontrar lo mismo: trabajo duro, suerte ciega, un compromiso amargo, frustraciones y una loca bendición que me sonríe en cierto momento. Ese es el factor X que marca si a alguien le va a interesar ver una de mis películas realmente.
AM: ¿Algún ejemplo de una mala experiencia que terminó siendo buena?
T.H.: Ok… En el rodaje de Forrest Gump, la clásica escena del principio, en verdad estábamos sentados en un banco del parque de Savannah, Georgia, tratando de ver qué íbamos a hacer después. Nos la pasamos cambiando a los actores y no sabíamos si íbamos a dejar la parte de la mujer que se sienta en el banco. Entonces, le pregunté a Robert Zemeckis si iba a ser de interés para alguien saber quién estaría sentado en el parque y ni él tenía la respuesta. "El cine es un campo de minas", me dijo. (Risas) Y cuando algo así funciona tan bien, decimos que pudimos evitar una de las minas. (Risas) Estudiar los errores también es muy duro, porque duele muchísimo. Pero cuando te aseguras que pasen desapercibidos sin dejar rastros, es posible ver la marca del éxito o la suerte que uno puede tener en el trabajo, con la alianza de una historia que termina funcionando.
AM: ¿Y cómo hace usted para no repetir dos veces el mismo error?
T.H.: Lo importante es entrar en un rodaje cuestionando lo suficiente como para no afirmar con toda confianza y sin ninguna duda lo que va a pasar en cada escena. Hay que tener confianza en el proceso, con la esperanza de que funcionen las alianzas que uno acuerda con el material que cambia constantemente. Cuando se desvanece esa confianza, estás perdido. Con Captain Phillips, pensábamos que todos los malos de una película tienen que tener dientes feos, pero es imposible hacer que todos los villanos posean dientes feos. Por eso es imposible codificar todas las lecciones que uno aprende.
AM: ¿Qué película tuvo el mayor impacto en su vida personal?
T.H.: Es gracioso porque a todos nos pasa. En casi todas las películas hay algún momento personal increíble que nos "pega" como si nos hubieran dado con un martillo en la cabeza. Es algo que nunca nos olvidamos. A mí me pasó algo así cuando vi Invictus de Clint Eastwood, sobre unos jugadores de rugby sudafricanos. Y cuando la vi pensé que Clint Eastwood era un genio, porque nunca nos explicó nada de un deporte como el rugby. No puso ningún relator ni comentarista, no explicó nada. Ni siquiera mostró el resultado del partido. Sólo veías a Matt Damon corriendo detrás de un balón de rugby con un grupo de jóvenes y yo no podía moverme del borde de la butaca… Aunque no tengo la menor idea sobre el rugby. (Risas)
AM: ¿Qué lo mantuvo en aquellos días, al principio de su carrera, cuando las cosas no funcionaban tan bien como hoy?
T.H.: Este mundo nos divide en dos grupos muy distintos: entre aquellos que son muy conscientes de lo que hacen y nunca van a convertirse en actores, y aquellos que pudieron vencerle a la conciencia y que pueden llegar a ser actores. Esa mitad del mundo también se puede dividir entre aquellos que perseveran en lo que quieren hacer y aque llos que no soportan el rechazo y abandonan la actuación. Por eso es tan importante insistir, porque en algún momento alguien va a necesitar a alguien como uno; esa persona te va a llamar y te dirá: "Sé que sólo es un restaurante-teatro y queda en Chatsworth, pero creo que estarías perfecto en ese rol. ¿Vendrías a interpretar a una de las palomas de Extraña pareja por 75 dólares a la semana?". Y cuando entras, aunque no hayas ganado lo suficiente, a lo mejor en la sala hay alguien que trabaja con Steven Spielberg, que quizá lo llevaron a la fuerza hasta Chatsworth, y tal vez al día siguiente le dice a Spielberg: "Vi a alguien en el rol de una paloma que sería perfecto para uno de los papeles pequeños del Zorro". Y justo cuando estabas a punto de renunciar a todo, cuando querías buscar otro trabajo con una entrada mucho más estable, a la semana siguiente vas a estar probándote el vestuario para un personaje del Zorro. Es duro. Las estadísticas nunca favorecen a los actores, de ninguna manera. Sin embargo, para aquellos que logran mantener la creatividad, hoy existen medios como internet, donde si alguien es lo suficientemente bueno, siempre va a ver alguien que le llame. Hay que ser perseverante. Y honestamente, en ciertas ocasiones hay que entender que no siempre vas a ganar lo suficiente como para arreglar el auto. (Risas) Pero no hay nada que puedas hacer en ese sentido.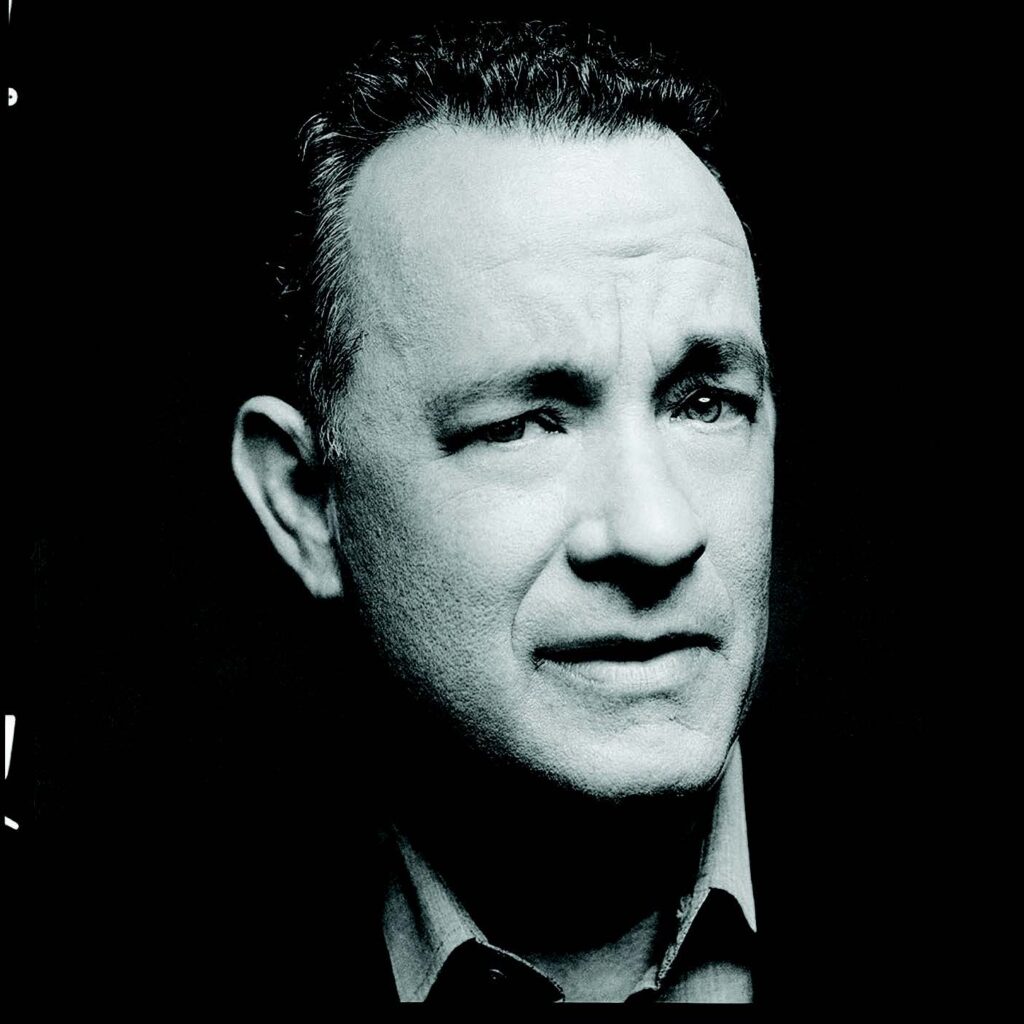 AM: ¿En qué momento de su trayectoria se dio cuenta de que usted realmente podía hacer las películas que quería hacer?
T.H.: Diría que fue después de filmar Apollo 13 que fue un trabajo apasionante para mí, por toda la investigación que hice y la gente con la que hablé. Gente que fue a la luna o estaba involucrada con las personas que llegaron. Lo curioso es que ni siquiera tocamos la luna en la película y por eso fui a ver a los amigos de HBO para ofrecerles la idea de filmar otras 12 historias en televisión sobre el programa Apolo y los seres humanos que lo consiguieron. Esa fue la primera vez que pensé: "No tengo la menor idea cómo lo voy a hacer, pero ya le voy a encontrar la vuelta".
AM: Entre todos los personajes que interpretó, ¿con cuál le gustaría salir a tomar una cerveza?
T.H.: Me gustaría dar una vuelta con Charlie Wilson, seguro. Sería la persona más fabulosa para salir de fiesta. Era un congresista de Estados Unidos que se metió desnudo en un spa con strippers de Las Vegas. Incluso le pregunté si en ese momento estaba borracho y me confesó que probablemente había bebido todo el día. Y cuando le pregunté si también había consumido cocaína, me dijo: "Tom, déjame darte mi respuesta. Yo vi la cocaína que me pasó por la nariz la uña de una hermosa jovencita, pero no me acuerdo de haber inalado". (Risas)
AM: ¿Qué factores toma en cuenta al momento de elegir un nuevo personaje?
T.H.: Me tiene que encantar y también tengo que querer ver la película. Cuando lees un guion, en cierta forma estás viendo la película en tu cabeza, juzgando si es o no algo fascinante. A los 30 años, hice muchas películas pésimas sobre el muchacho inconsciente que nunca podía acostarse con una mujer o quería acostarse y la vida era lo mejor cuando lo conseguía, hasta que dejaba de acostarse con alguien. (Risas) Para ese entonces, yo ya estaba casado, tenía hijos, había experimentado las partes difíciles de la vida y tengo que decir que entonces me di cuenta de que tenía que empezar a utilizar la difícil palabra "no". Aunque sea la gente más talentosa y tenga que filmar en Francia, a tiempo para que vuelvan a casa mis hijos, si una película no tiene el fuego suficiente como para quemarme, tengo que decir que no. La extraña lección es que así es como también terminé eligiendo con quién iba a trabajar. Después de decir que sí, sólo hay que trabajar, pero decir "no" significa que elijo la clase de historia que quiero contar y el estilo de personaje que deseo interpretar. Eso es lo que hago.
AM: ¿Y disfruta cuando tiene que filmar en un escenario lejos de Los Angeles como Italia con Inferno o el Medio Oriente con A Hologram for the King?
T.H.: Lo mejor de viajar es el plato glamoroso que te entregan. Te dan lo que llaman "Per diem". ¿Sabe lo que es? "Per diem" son 800 dólares en efectivo, que te dan en un sobrecito para gastar en una semana. En las dos primeras películas que filmé en Nueva York, Toronto y Atlanta, llegué a poner en fila los billetes de 20 dólares en mi cama gritando: "Mira, mira, es dinero gratis", hasta que, por supuesto, me enteré que tenía que pagar la habitación del hotel. No era para nada gratis, después de todo.
AM: ¿El trabajo que más lo enorgullece, hoy?
T.H.: Todos son muy difíciles de ver. Si aparecen en HBO o algo parecido, cambio muy rápido de canal porque todo lo que me acuerdo es lo que pasó el día del rodaje. Pero si tengo que elegir una que me gusta desde el principio al fin, porque toda mi familia también estaba involucrada, ¡es una película como That Thing You Do!, que fue fabulosa. La escena donde la banda escucha su canción en la radio por primera vez… es algo que hasta Bruce Springsteen llegó a decirme: "A nosotros nos pasó lo mismo. Estábamos en el auto y paramos a un costado de la calle para escucharlo". ¿Qué más puedo pedir?