Hija de un cantante de música country, Kim Dickens nació en Huntsville, Alabama, el 18 de junio de 1965. Luego de egresar de la escuela secundaria, ingresó a la Universidad Vanderbilt en Nashville, en la que obtuvo una licenciatura en Comunicación. Pero la comunicación no iba a ser lo suyo. Al menos, no directamente. Al poco tiempo viajó a Nueva York para continuar sus estudios, esta vez en el universo de la actuación. Realizó cursos en Lee Strasberg Theatre & Film Institute y se terminó graduando en la American Academy of Dramatic Arts. Sin embargo, en los inicios de los años 90 se marchó a Los Angeles, y allí dio comienzo a su carrera como actriz, incursionando en primer término en el mundo del teatro. Su debut en la gran pantalla fue con la comedia independiente Palookaville (1995), de Alan Taylor, donde encarnó el papel de la novia del personaje de Vincent Gallo.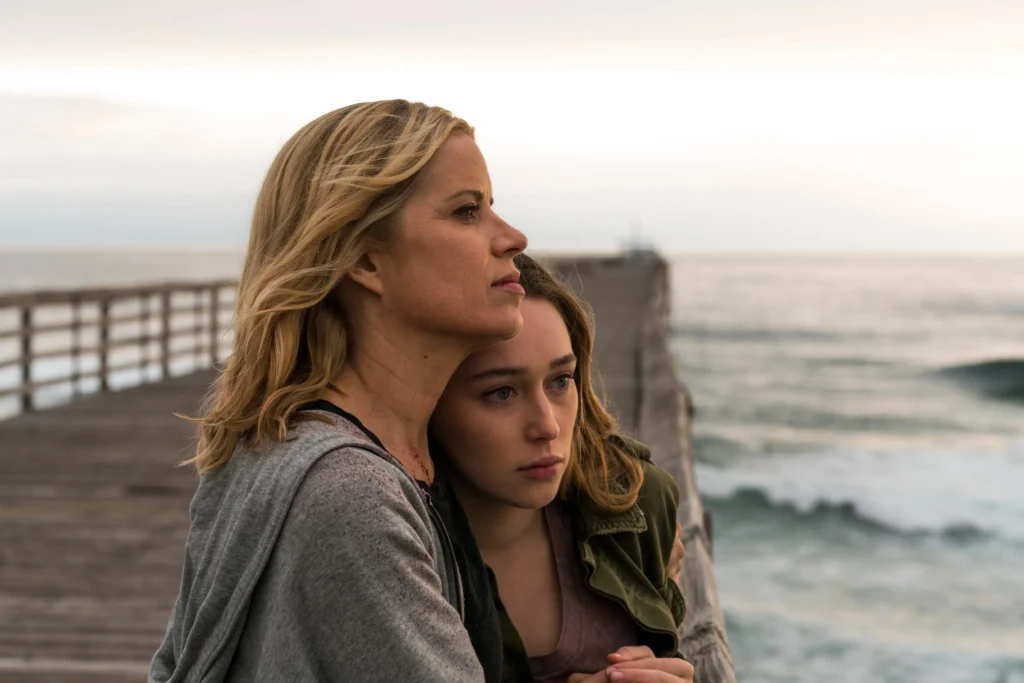 A partir de ahí, su rostro pasó a ser una figura recurrente en infinidad de películas –sobre todo en roles secundarios–, llegando a trabajar con actores de la talla de Bruce Willis, Alec Baldwin, Cate Blanchett, Keanu Reeves, Robert Duvall, Ben Affleck y Sandra Bullock, entre otros. Aparte de su participación en varias series exitosas como Lost, Treme o House of Cards. Aquí y ahora, Dickens es protagonista de Fear the Walking Dead –spin-off y pre-cuela de la postapocalíptica The Walking Dead–, serie que sigue el relato de varias familias que experimentan el apocalipsis zombie, obligadas a abandonarlo todo. Para muchos, la serie representa una metáfora del mundo actual. "Creo que se tratan problemas universales con los que todos de alguna manera estamos lidiando y que se manifiesta en cosas tangibles. Es decir, la gente se preocupa por pagar su hipoteca o por diferentes tipos de disturbios o cosas desagradables que están sucediendo en todo el mundo y es aterrador", sostuvo Robert Kirkman, su creador.
ALMA MAGAZINE: ¿Cómo se involucró con el proyecto de Fear the Walking Dead?
KIM DICKENS: La verdad es que nunca había visto The Walking Dead. Fui a una audición sin saber nada de la serie. Sabía, sí, que era muy popular, pero nada más. Antes de ir les pregunté a los productores qué tenía que ver para prepararme, y ellos me contestaron: "Nada. No veas The Walking Dead".
AM: Con el público esperando la tercera temporada, ¿cree que a usted le serviría ver ahora The Walking Dead?
K.D.: No lo creo… No quiero que mi personaje tenga una idea muy acabada de cómo es realmente ese mundo apocalíptico. No quiero que una idea preconcebida se interponga en mi trabajo.
AM: Fear the Walking Dead narra un mundo anterior a The Walking Dead…
K.D.: Sí, comienza con el derrumbe de la sociedad. Ellos están viviendo sus vidas normalmente cuando de golpe se encuentran con el apocalipsis. Nadie sabe nada, nadie tiene respuestas. Todo está fuera de control y es terrorífico. Es la pesadilla de la mayor parte de la gente, como con cualquier catástrofe natural de la que no tenemos control ni conocimiento ni poder. La serie arranca con un mundo normal que de golpe se vuelve siniestro. Nuestros vecinos cambian delante de nuestros ojos y encima no es posible identificarlos, no parecen criaturas de otro mundo, sino que son muy parecidos a nosotros, y eso es incluso más aterrador.
AM: ¿Cómo explica usted el éxito de la serie?
K.D.: ¡No sé cuál es el secreto! Creo que fuimos encontrando nuestro camino. Las cosas fueron funcionando de a poco, con paciencia y mucho trabajo.
AM: ¿Qué es lo que le resulta interesante del mundo de los zombies? ¿Era seguidora del género?
K.D.: No lo era. En realidad, nunca me interesó demasiado. Sin embargo, trabajar en Fear the Walking Dead me despertó una curiosidad por el género y el mundo de los zombies en general. Me interesan mucho las metáforas que plantea el mundo zombie: el miedo a la muerte, a las conspiraciones gubernamentales, o a las intervenciones tardías del gobierno, como sucedió con la catástrofe del huracán Katrina, cuando durante los primeros días después del desastre no se sabía nada, todo era un caos, la gente estaba sola y las autoridades no aparecían. Tal vez el atractivo del género venga de ahí: la intemperie y el desamparo que producen en la gente este tipo de situaciones apocalípticas.
AM: En la serie las mujeres son las que primero se adaptan a este nuevo contexto, y también son las que primero perciben que es un mundo que tiene que cambiar. ¿Tuvo usted una impresión similar?
K.D.: No creo que sea una regla general pero sí tiene sentido porque Madison, mi personaje, es una madre y tiene un instinto primario que es proteger a los niños. Eso es algo que disfruto mucho con mi personaje porque a pesar de todos los problemas que tiene con sus hijos, no hay ninguna duda de que lo que tiene que hacer es protegerlos. Ella entendió de entrada que iba a tener que pasar por varias situaciones complicadas y tomar decisiones muy difíciles. Y eso la lleva a defender ferozmente a su familia. Es por ello por lo que las mujeres toman las riendas, por ese instinto primario de protección.
AM: Cada vez hay más series en Estados Unidos protagonizadas por mujeres. ¿Cree que el rol de la mujer en la ficción televisiva tiene más fuerza?
K.D.: ¡Ya era hora! Hay muchas series buenas ahora y hay muchos sitios donde colocarlas, donde emitirlas. Los creativos se han dado cuenta de que ahora tienen la posibilidad de escribir grandes roles para las mujeres porque hay sitio dónde mostrarlas. Creo que hace mucho tiempo que tenía que haber pasado. A la vez que muchas minorías que no están representadas habitualmente ahora, gracias a las series, se están empezando a representar. Incluso minorías étnicas y religiosas. Pero creo que no es suficiente, todavía queda trabajo por hacer.
AM: ¿Cómo es ser parte de una serie que tiene mucho del género de terror?
K.D.: ¡Da miedo! (Risas) Muchas veces los diálogos que tenemos que repetir son muy escalofriantes. Y evidentemente quedan en algún lugar de mi cerebro, porque a la noche a veces sueño con ellos. No es fácil. Pero al mismo tiempo es muy emocionante.
AM: ¿El estrés que sufre su personaje le ha planteado algún desafío?
K.D.: Sí, definitivamente es un desafío. Creo que por eso la serie es tan entretenida: hay peligros constantemente. Sin embargo, como decía antes, también hay una suerte de trasfondo. La serie es una metáfora de lo que podría ser un mundo postapocalíptico. En cierto sentido, el tema de la humanidad, de lo que hacemos para sobrevivir y en qué nos convertimos en esos momentos de tanto peligro, es algo que toca la fibra sensible de la gente.
AM: ¿Le genera curiosidad cuál va a ser el devenir del personaje a lo largo de la serie?
K.D.: La verdad es que no. En todos los trabajos que he hecho para la televisión siempre seguí el guión día a día. Además, las series tienen su propia personalidad y su forma de funcionar. La segunda temporada estuvo muy preparada y estaba muy bien escrita, y cada página ha sido una sorpresa para mí.
AM: Si tuviera que describir a Madison, su personaje, ¿qué diría de ella?
K.D.: Diría que es tremenda. (Risas) Es intrépida, fuerte, valiente, centrada, muy maternal con Nick y Alicia (sus dos hijos). Pero al mismo tiempo es muy difícil, es complicada y tiene un pasado oscuro.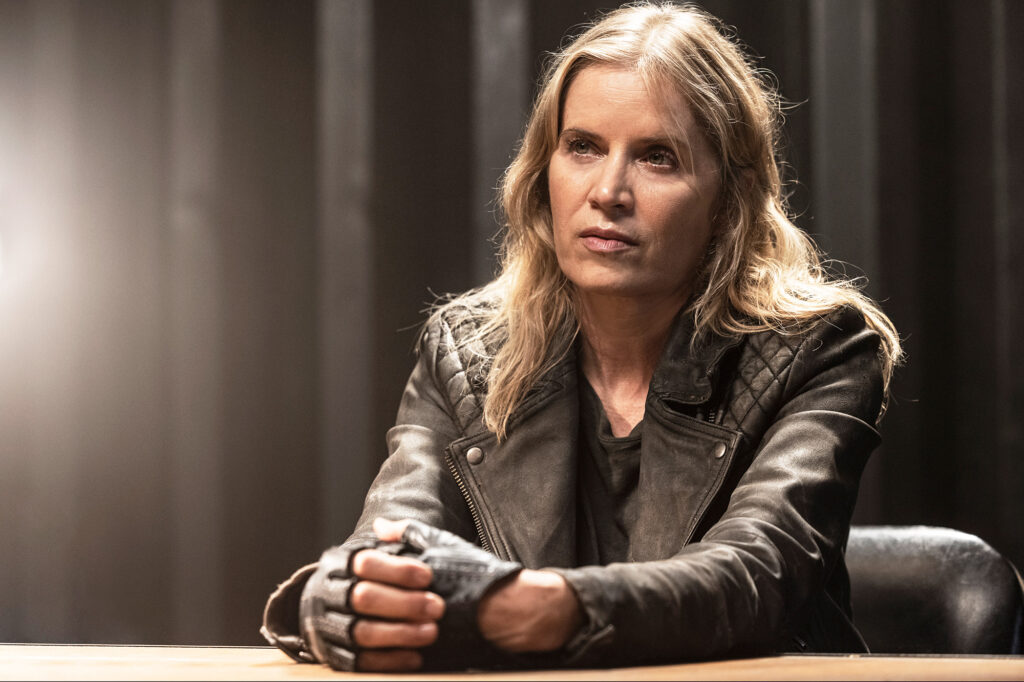 AM: Madison tiene un novio, Travis (Cliff Curtis). ¿Cómo ve el vínculo entre ellos dos?
K.D.: Creo que Travis es realmente un apoyo para Madison, y ella lo acepta como es, con sus defectos y con sus virtudes. Y Travis, por su parte, también la ama, y se muestra comprensivo, sobre todo en relación con el hijo de ella, Nick (Frank Dillane), que es drogadicto y que está entrando y saliendo constantemente de rehabilitación. Ellos no buscan la perfección en su vínculo. Quieren ser capaces de estar juntos y encontrar cierta armonía a pesar de sus problemas. El temor de Madison es que su familia disfuncional acabe siendo un obstáculo y que Travis no pueda o no quiera lidiar con todos los problemas que ello conlleva. De ahí proviene su inseguridad y su miedo. Sin embargo, ellos vienen sobreviviendo incluso desde antes del apocalipsis zombie, así que de alguna manera la catástrofe podría llegar a acercarlos aún más… o no.
AM: ¿Y cómo definiría la relación de Madison con sus hijos?
K.D.: A Nick ella le quiere salvar. Es difícil que una madre no se sienta responsable de su hijo, y más en el caso de Nick, que hace tiempo viene teniendo problemas con las drogas. Ella desea lo mejor para él, quiere curarlo, que esté limpio. Y en su interior se siente responsable y, a veces, piensa que ha fracasado como madre. Alice (Alycia Deb-nam-Carey), en cambio, es la niña perfecta: inteligente, bella y equilibrada, a pesar de su familia disfuncional y de su padre muerto. De los dos, es Nick el que recibe más atención por parte de la madre, y es probable que por eso a veces Alice siente cierto resentimiento para con su hermano, aunque en el fondo lo quiera. Pese al gran distanciamiento y el dolor, hay amor en la familia. A veces creo que Alice quiere marcharse para librarse de nosotros y de todo el drama. (Risas)
AM: ¿Hay espacio para la improvisación o graban con una estructura definida que no pueden cambiar?
K.D.: Antes de elegirnos, los productores estaban muy familiarizados con nuestros trabajos. Eso permitió que la relación estuviera siempre abierta al diálogo; así que diría que, en general, el trabajo es muy colaborativo, nada rígido.
AM: ¿Cuánto les toma, en promedio, rodar un capítulo?
K.D.: Un episodio se filma en seis u ocho días, pero sin embargo trabajamos todo el tiempo, tenemos reuniones, conversaciones, ensayos… Es un proceso constante.
AM: ¿Por qué cree que el público se identifica con la historia?
K.D.: Creo que eso se debe a que son dos familias rotas, quebradas, que se han unido, y que a pesar de todas las dificultades, están intentando formar una nueva otra vez. El público se identifica con ese tipo de cosas. Diría que el tema principal de la serie es la familia, y de las vicisitudes por las que podría pasar una familia en el caso de una catástrofe, y de cómo las circunstancias que nos desafían nos unen o nos separan. El motor que mueve a Madison es salvar a los suyos, y lo peor que podría sucederle a ella es perderlos.
AM: ¿Cómo es el feedback de la gente? ¿Se puede medir el impacto?
K.D.: Sí, claro. La serie tiene una audiencia muy grande. Si tuviera que definir a los fans, diría que son muy entusiastas y apasionados. Y para darse cuenta del fenómeno de la serie, alcanza con salir a la calle o entrar en internet. Me siento muy contenta y afortunada por eso. ¿Qué mejor que saber que la gente ve y disfruta de tu trabajo?
AM: Teniendo en cuenta que Fear the Waking Dead es una precuela de The Wal-king Dead, ¿cómo piensa que los fans van ir viviendo el desarrollo de la serie?
K.D.: Estamos en desventaja con la audiencia. No sabemos nada de lo que ellos saben, así que me imagino al público gritándonos a través de la televisión: "¡No pases por ahí!", "¡No entres ahí!" (Risas) Pero creo –y me gusta pensar que es así– que también sienten compasión por estos personajes que están luchando y utilizando toda su inteligencia y su instinto para entender la situación y sortear las circunstancias que ellos, los espectadores, de alguna manera conocen. Sería interesante ver la serie desde este punto de vista.