Si todo el mundo se hacía una idea de la voz de Dios al escuchar por radio a Orson Wells, la nueva generación de cinéfilos encontró en Morgan Freeman a su sucesor. Al menos desde su participación en Bruce Almighty (2003). Una más de las comedias de Jim Carrey –si se quiere–, en la que el director de casting le otorgó a Freeman nada menos que el papel de Dios; y ataviado con traje inmaculado se apareció limpiando el piso de un salón enteramente blanco. En estos tiempos electorales, también se recuerda con asombro su papel como el presidente Tom Beck, el primer afroamericano en llegar al Salón Oval, en el filme Deep Impact (1998). Entretanto, el actor nacido en Memphis hace poco más de 70 años se ha hecho acreedor de un Oscar de la Academia como Mejor Actor de Reparto por su papel en Million Dollar Baby (2004), bajo las órdenes de Clint Eastwood, entre otros 32 galardones y 27 nominaciones. Con esa misma voz, entre gutural y afable, encarnó antes que Denzel Washington a Malcolm X en Death of a Prophet (1981), y se prepara para interpretar al ex presidente sudafricano Nelson Mandela en The Human Factor, con fecha de estreno para 2009, con la dirección de su amigo Clint Eastwood. 2007 resultó un gran año para el actor que, a medida que el tiempo pasa, se encuentra más activo y en mejor forma.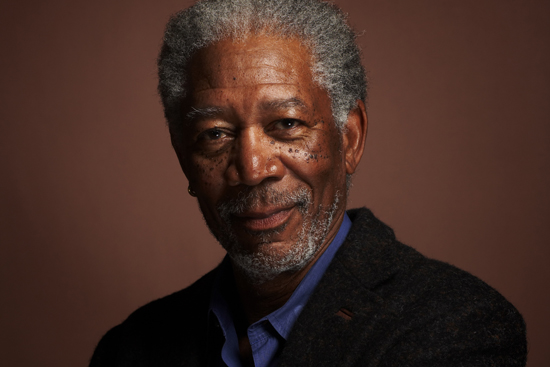 Después de inaugurarlo interpretando una vez más a Dios en Evan Almighty, la secuela de aquella primera aparición, esta vez junto a Steve Carell; formó parte del elenco del debut de Ben Affleck como director, Gone Baby Gone, un filme aclamado por la crítica, y por el propio Freeman: "Es diferente a todo lo que se ve por ahí", dirá más tarde. Se lució, además, en Feast of Love, del realizador Robert Benton, tanto como en The Bucket List, el filme de Rob Reiner donde comparte protagonismo con otra de las gemas del cine norteamericano, Jack Nicholson. Allí, sus personajes son dos enfermos terminales que redactan juntos sus listas de proyectos pendientes, la lista de todo lo que les gustaría hacer antes de dejar este mundo. Luego del desayuno en el hotel, el señor Freeman toma asiento para dispensar a continuación partes iguales de humor, honestidad y sabiduría.
ALMA MAGAZINE: Recién anoche pude ver Gone Baby Gone…
MORGAN FREEMAN: Estoy sorprendido de lo bien hecha que está esa película. Realmente no la esperaba: pequeña, con terribles actuaciones. El guión es muy sólido y la historia, muy diferente. Estoy convencido de que si ofreces a la gente algo distinto, por fuera del camino trillado, querrán escuchar lo que tienes para decir. Este es un buen ejemplo.
AM: Aprecio mucho que Ben Affleck haya tenido el coraje de ser tan sombrío.
M.F.: Claro. Insisto, eso es lo que hace al filme diferente de la mayoría de lo que se ve por ahí.
AM: Tengo la sensación de que él estudió muchas películas de los 70 antes de ingresar al set. Porque consigue ese tono áspero, la sensibilidad neorrealista de muchos grandes filmes de la época.
M.F.: No sé si miró muchas de esas películas, o si se trata sólo de captar su sensibilidad. No estoy contradiciéndote, pero en verdad nunca hablamos de eso. Sería interesante preguntarle a él si estudió el asunto de antemano. De todas formas, fue una gran elección. Al igual que Amy Ryan, que hizo el papel de la madre de la niña: luce extraordinaria.
AM: Es tan convincente que en un principio creí que se trataba de una lugareña que Ben Affleck había descubierto.
M.F.: No, ella se ve tan creíble que es encantadora. Sería interesante saber con qué se viene Ben en el futuro.
AM: Al trabajar con Ben, ¿encuentras diferente la experiencia de ser dirigido por alguien que además es actor?
M.F.: Es distinto, pero todo el mundo lo es. Cada uno tiene su forma de abordar las cosas. Si quieres pensar que como es un actor el que ahora dirige va a tener una aproximación más cercana a tu posición, habría que discutirlo. Soy una persona más desapegada y, al contrario, Ben es de involucrarse mucho. Pero en la pista se ven los caballos, nada más importa.
AM: Bueno, tiene un elenco increíble. Parece que éste será el año revelación para su hermano, Casey Affleck.
M.F.: Seguro, acabo de ver The Assassination of Jesse James, y quedé impactado.
AM: Creería que es el mejor filme de los últimos tiempos.
M.F.: Sí, de hecho, estuve rebobinando y adelantando mientras lo miraba porque sentía que estaba perdiéndome cosas, de tan rico que es.
AM: ¿No te recuerda a Terrence Malick en sus inicios, o al Robert Altman de McCabe & Mrs. Miller, por la manera en que te sorprende?
M.F.: Sí, mucho. Casey estuvo ge nial, y pienso que Brad (Pitt) hizo un gran trabajo. Lo lleva muy tranquilo.
AM: Me encanta cómo todos se ven tan sucios, y con la dentadura desastrosa. Parece que no se hubieran cepillado los dientes en semanas, y puedes imaginar cómo fue su vida hacia atrás.
M.F.: Sí, todo, hasta el más mínimo detalle es ajustado.
AM: Sobre todo considerando los viejos filmes, como Jesse James de Henry King, donde Tyrone Power tenía la dentadura perfecta y ¡los pliegues de su camisa parecían de lavado en seco!
M.F.: (Risas) Claro, muchachos que dormían vestidos todo el invierno, en el campo abierto, a la intemperie…
AM: Y quizás una vez al mes se daban un baño.
M.F.: Tal vez. En ese caso porque había alguna mujer por las cercanías. (Más risas) Aunque si no sudas mucho, no vas a oler mal, pero tampoco cambias de piel a diario.
AM: Sé por mis amigos que estuvieron en el Ejército que es realmente ardua la vida cuando estás afuera de los cuarteles con tus compañeros.
M.F.: Claro, no es ir al gimnasio. Recuerdo mi primer servicio en el Ejército: te arrojaban en el medio de la nada durante el entrenamiento básico, y estabas obligado a hacer ejercicios de cuerpo a tierra en el lodo. Era muy desagradable.
AM: ¿Dónde fue eso?
M.F.: En las afueras de San Antonio, mucho tiempo atrás… (Risas)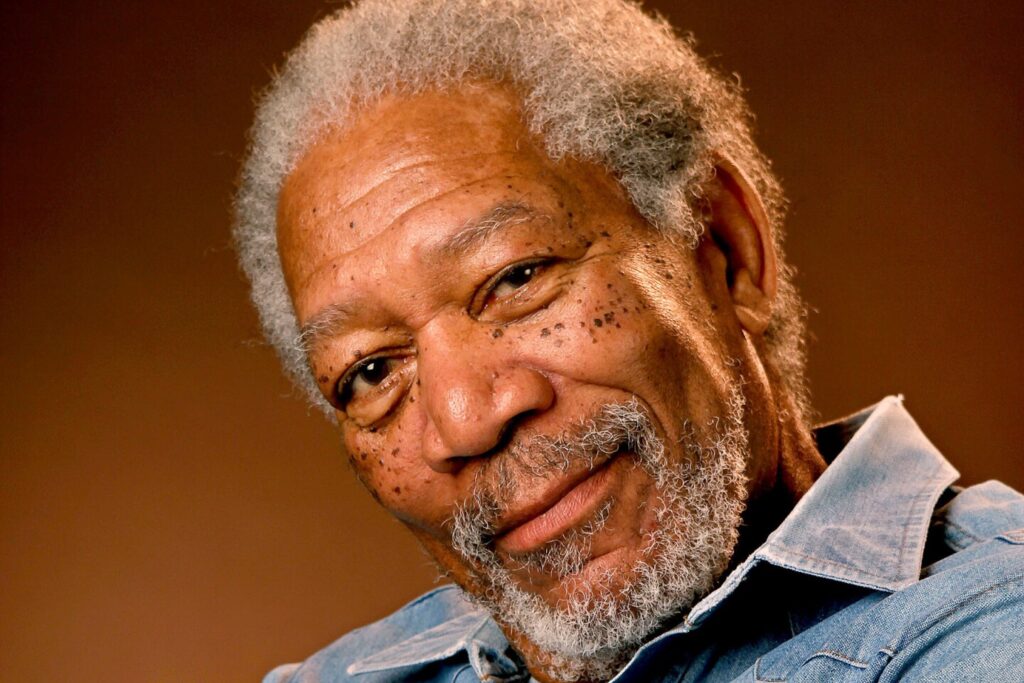 AM: ¿Cómo fue trabajar en Feast of Love con Robert Benton?
M.F.: Él es un hombre adorable, con muchos años en el negocio. Es tan apacible como podría serlo alguien, sereno. Y así es como dirige. Siempre en calma. Si quiere llevar tu interpretación ligeramente hacia tal o cual camino, eso es lo que te pedirá: "Quiero que hagas la prueba de este modo.  Observa qué pasa…". Un hombre muy agradable, que usa una paleta inusual. Lo admiro y me encanta trabajar con él.
AM: Bueno, si rastreas, su filmografía lo dice todo: comenzó escribiendo Bonnie & Clyde, gracias a Dios.
M.F.: ¿Bob escribió Bonnie & Clyde?
AM: Así es, con David Newman. Comenzó como guionista.
M.F.: No lo sabía. Tampoco que Jack Nicholson fue guionista.
AM: Seguro. Debutó con Roger Corman en los 60.
M.F.: Todas esas cosas se me escapan… (Risas)
AM: Volvamos a Feast of Love. Es un filme muy dulce.
M.F.: Lo es, aunque en una crítica leí que alguien lo llamaba "edulcorado".
AM: Creo que pisa la línea, pero jamás la traspasa.
M.F.: No lo creo, tampoco. Cuando lo vi, me quedé observando las marcas del director, para ver cómo se sucedían las escenas. Y me di cuenta de que hizo un trabajo maravilloso.
AM: Deja la cámara en su lugar, encuadra a los actores, los pone en foco y filma. A la manera de Clint Eastwood.
M.F.: (Risas) ¡Correcto! ¡Correcto! Adoro a Clint por eso mismo. Entre los directores con los que trabajé, él es uno de mis favoritos. Sabe lo que quiere. Llega preparado y deja todo en su lugar: cuando ha conseguido lo que busca, se retira. Me encanta eso. He trabajado con él en dos oportunidades hasta ahora, y me estoy preparando para hacerlo nuevamente en una historia sobre Nelson Mandela, The Human Factor. Se centra en su vida al momento en que se desarrolla la Copa Mundial de Rugby de Sudáfrica, en 1995. Recién comenzaba su presidencia, y era un momento muy esclarecedor para la historia del país; fue una época en que todos se sentían realmente capaces de lograrlo, cuando la sociedad parecía unida por la misma causa.
AM: ¿Has estado con Mandela?
M.F.: Muchas veces.
AM: ¿Y qué impresiones te ha dejado?
M.F.: No voy a decirte nada que no sepas de él. Su vida es mucho más que un libro abierto, pero él es… ¿Alguna vez has conversado con Bill Clinton?
AM: Sí, brevemente.
M.F.: Bueno, se parecen. Cuando él está delante de ti, estás en su presencia. Cuanto te habla, te habla sólo a ti. Es complaciente al máximo. Cuando conocí a Mandela, lo trataba como al ex presidente de un país, y nunca antes había conocido a uno, excepto Bill Clinton y George H. W. Bush. No quería dejarlo sin palabras, porque nadie quiere estar en su posición y no tener nada que decir (aun cuando en muchas ocasiones no sabes qué decir). ¡A menos que tengas algo que discutir!
AM: O conoces a las personas y no tienen nada para decir.
M.F.: Exacto. Por eso prefiero estar con gente que cuenta con algo para comentar, que te hace más sencilla la tarea de tener algo que decir a ti. En una ocasión conocí al Imam, el sheik de Dubai. Un muchacho fascinante. Es el líder de un estado, no de un país, porque los Emiratos Arabes Unidos son los que componen el país. Dubai es uno de sus siete estados. Y el Imán está convencido de que hay que construir y construir, porque eventualmente el petróleo va a agotarse. Y si no se agota, el precio va a caer tan bajo que podría agotarse tranquilamente. Hablo de manera idealista: los líderes de estos países van a tener que entender que no se trata de dinero sino de sustentabilidad. Si interpelas a los industriales del petróleo y las automotrices para que comiencen a reformularse, y proponen un coche que transite 40 millas con un galón, o que funcione con otra cosa que petróleo o gasolina, tendrás una evidencia de lo que cuesta su desarrollo. Si tienes un coche que funciona con E85 –compuesto por un 85% de etanol y un 15% de gasolina–, ¿sabes lo que significa eso en plan de ahorro de combustibles fósiles?
AM: Sólo puedo imaginármelo.
M.F.: Sólo por un día, ponte a observar los autos en una de las principales ciudades del mundo. No pienses en los aviones, ni en los trenes ni los botes, sólo en los coches, subiendo y bajando las calles, quemando gasolina y Diesel. El biodiesel se obtiene de la grasa del tocino, ¡Por Dios! Entonces, ¿por qué no estamos haciéndolo? Alegan que se debe al "costo". No hay nada que hacer con el "costo", porque es el costo el que va a terminar matándonos.
AM: Y se niegan a incluir el factor más valioso de la cuestión: el factor humano, más costoso que el factor dinero.
M.F.: Y decimos "ellos", un término vago en este proceso. Yo prefiero hablar de "nosotros".
AM: Seguro. ¿O quién puso a los políticos en sus cargos?
M.F.: Claro que nosotros.
AM: La pregunta es: ¿Por qué los elegimos para sus cargos? ¿Dónde cayeron nuestras prioridades?
M.F.: Sé por qué muchos se postulan. En política existe la ilusión de cambiar las cosas, hacer que funcionen. A menos que estés en política, no llegas a advertir que no podrás hacerlo. Te involucras y juegas el juego.
AM: Como en Mr. Smith Goes to Washington.
M.F.: Correcto. ¿Quieres cambiar algo? ¿Por qué el electorado te elige a ti? Nada más que por dinero, en uno u otro nivel. ¿Qué hay del servicio de salud? Te diré ahora mismo la respuesta a las preguntas sobre salud: números, números, números. ¿Quieres hablar de las prioridades en política aquí? Hablemos del cuidado de la salud de los niños. ¿De qué niños crees que estamos hablando?
AM: De la gente pobre. Los afroamericanos, los hispanos, los inmigrantes recién llegados.
M.F.: Exacto. Demos una mirada a los números otra vez.
AM: ¿Y qué hay de Katrina? El desastre en sí me dejó una enseñanza, porque permitió ver que el racismo, como lo conocimos en los 60, ya no es el motor de la discriminación. Ahora está basada en clases sociales.
M.F.: Sí, ha sido así durante años, desde inicios de los 80.
AM: Claro. La mayoría de los habitantes de la Costa del Golfo perjudicados son blancos pobres. Y recibieron el mismo maltrato que cualquiera de la población –afroamericanos en su mayoría– de Nueva Orleáns. Lo que es mucho decir.
M.F.: Pero tenemos que dejar de hablar de raza. No es por la raza, es por dinero.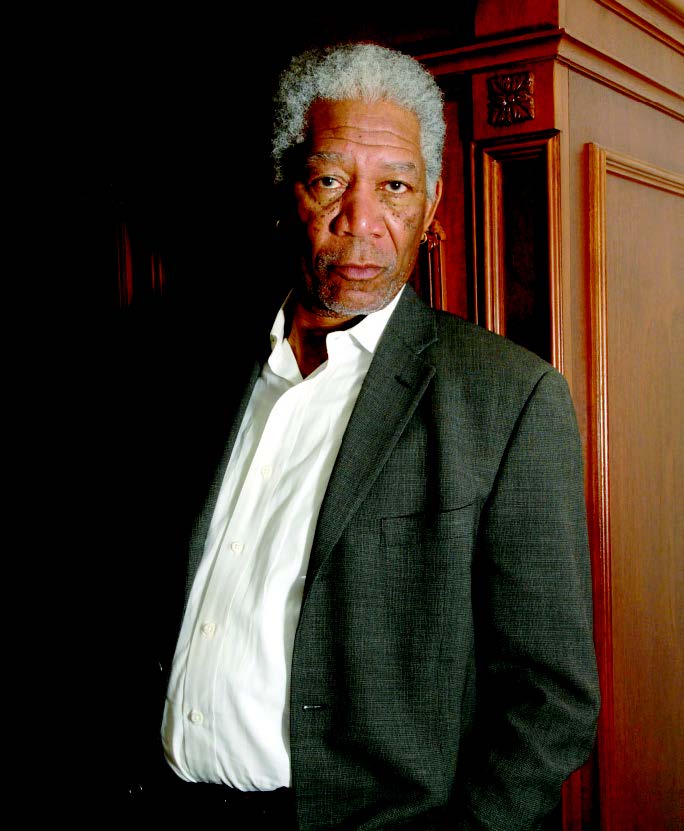 AM: Pero este país nunca se interesó por los pobres. No digo que algunos líderes no lo hayan hecho, sino que el país nunca se comprometió verdaderamente por aquellos que tienen menos.
M.F.: No, por la sencilla razón de que este país está basado en la libertad para perseguir tus sueños. En la India, si naces en una determinada casta, allí es donde te quedas. En Gran Bretaña lo mismo. No aquí.
AM: No, aquí puedes comprar tu salida.
M.F.: Puedes comprar tu futuro, puedes dar con una idea que te permitirá convertirte en un rey.
AM: Bueno, mírate a ti mismo. Te criaste en la pobreza, ¿no es así?
M.F.: Sí, pero redefinamos el término "pobreza". Creo que hay dos tipos: existe cierto nivel de pobreza en el que la gente le dice a sus jóvenes "Aquí es donde estás y donde siempre estarás". Una pobreza de espíritu. Y existe otro tipo de pobreza en la que solamente careces de una suma importante de dinero, pero en su lugar anida un sistema de creencias. Y en este país puede funcionar muy bien. Es el tipo de aspiración que se ve entre los inmigrantes mexicanos. Porque por esa razón están aquí: la visión de este lugar como apropiado para mejorar su posición en la vida. Sin embargo, no creo que este país vaya a convertirse en socialista.
AM: Por supuesto que no. Este país está construido en los cimientos del capitalismo. Y para que el capitalismo exista, debe haber clases desposeídas.
M.F.: Debe haber, correcto. Y no cambiará mientras vivamos. Y si cambia ya no seremos quienes somos.
AM: Es una economía de libre mercado. No está bien ni mal. Sólo es así.
M.F.: Claro, y está comprobado que funciona.
AM: Cuando mencionabas aquel primer tipo de pobreza, de eso es lo que habla Gone Baby Gone, en realidad.
M.F.: Es un pensamiento establecido. Siempre digo que mientras siga funcionando el transporte Greyhound, éste será el mejor lugar en el mundo. "Nunca voy a hacer esto en otra parte del mundo. No puedo dejar este pueblo". Maldición. Pero lo que la vida requiere en muchos casos, y particularmente en este país, es coraje.
AM: Como siempre, nos dispersamos. Hablemos sobre The Bucket List.
M.F.: Esta es una de las tantas situaciones en las que Morgan atrae a la suerte. (Risas) Recibí una llamada de Rob Reiner por esta historia, que ya había leído, aunque entonces la rechacé. Rob me la envió de vuelta, volví a leerla y le devolví la llamada: realmente me había gustado y me encantaba la idea de poder trabajar con él. Entonces le confirmé que lo haría, pero tenía en mente a alguien para que interpretara la otra parte: Jack Nicholson. El aceptó. "Conseguiremos a Jack", me prometió. Jack sólo dijo "Sí". Rob me lo comentó sólo cuando estábamos cerca de la fecha de rodaje, pero con la condición de que Morgan Freeman interpretara la otra parte. (Risas) Ya ves, Jack estaba en mi lista.
AM: Ah, entonces ya tenías la tuya. ¿Y cómo viene tu lista? ¿Qué tan lejos estás de cumplirla?
M.F.: Todos mis sueños se convierten en realidad. Lo deseo, y parece suceder. Lo aprendí años atrás: si deseas algo con empeño, lo obtendrás.
AM: Adoro a Jack Nicholson desde que lo vi en Cuckoo's Nest. Está entre mis héroes de todos los tiempos. Cuéntame de Jack.
M.F.: Claro. Yo he sido su seguidor desde Easy Rider, pero el que realmente me convenció fue Five Easy Pieces. Oh, ¡qué filme! Me deslumbró. Desde entonces, he sido devoto de Jack. Luego tuve la oportunidad de viajar con él en un avión de Warner Bros , junto a Clint (Eastwood), debe haber sido durante el rodaje de Unforgiven. Volvíamos de Los Angeles y fui directo a decirle que lo admiraba y, como suelen hacer los actores, él expresó cuánto admiraba mi trabajo. Después seguimos hablando sobre la posibilidad de una secuela –no una remake– de The Last Detail, que mostraría a aquellos dos marineros en la actualidad, llevando al mismo muchacho de vuelta a prisión. Pero no resultó.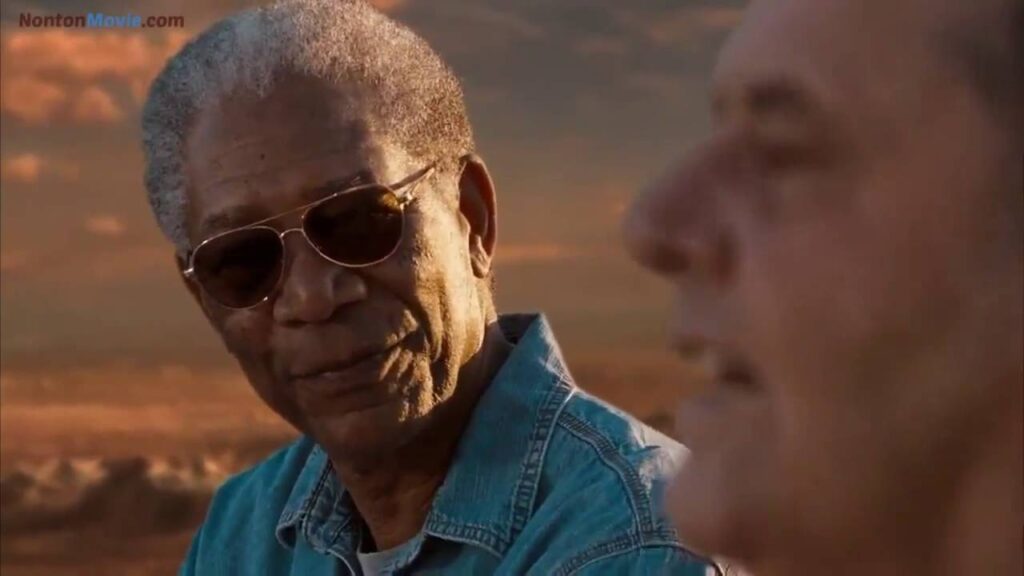 AM: ¿Podrías decir que Jack y tú tienen una manera similar de procesar las ideas?
M.F.: Sí, alcanza tu meta, sin llevarte los muebles por delante. (Risas)
AM: Da la impresión de que tú y Jack se divirtieron mucho juntos.
M.F.: Estaba literalmente entregado a un sueño hecho realidad. Nadie quiere aburrir a su compañero de set con frases como "Estoy tan emocionado de estar aquí contigo". Pero a diario moría por decirle: "Jack, ¡estoy tan pero tan emocionado!". (Risas)
AM: ¿Y cuáles son el resto de las cosas de tu lista que todavía no has cumplido?
M.F.: Tengo una compañía productora llamada Revelations Entertainment, y una gran colega que aporta todas sus ideas allí. En la puerta de mi refrigerador pegué una nota en la que se lee: "Nominación para los Academy Awards o un premio a la Mejor Película". No me importa si alguna vez soy elegido como Mejor Actor, pero un galardón a la Mejor Película… hay tantas buenas historias allá afuera para contar.